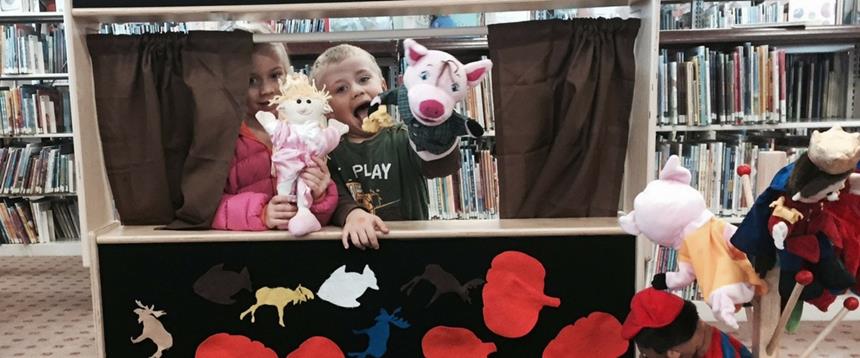 Earthquake Week Events
During the week of December 4 to December 7, while Anchorage School District is closed and while our city recovers from the earthquake, we are happy to provide extra programming options for families.
**ALL REGULARLY SCHEDULED STORYTIMES WILL BE HELD** Please see the schedule here
This page will be updated frequently, so please check back!
Z. J. Loussac Library
Morning Movies - 10:30am to 12:30pm, daily movie for families. All movies are PG and shown in the 1st floor Wilda Marston Theater
Afternoon Activities - 2:00pm to 4:00pm Drop in activities for families in the fourth floor Learning Commons.
Tuesday  the 4th – Science Day
Movie: A Wrinkle in Time (PG; 109 minutes)
Activity: Science stations - we have robots, circuits, magnets, measurement and more! Co-sponsored with 4-H and Cooperative Extension Service
Tuesday EVENING Activity:
Meet the cast of A Diary of a Worm, a Spider, and a Fly as presented by Cyrano's. Tuesday, Loussac, second floor, 6pm-7pm
Wednesday the 5th – Art Day
Movie: Happy Feet (PG; 109 minutes)
Activity: Art stations - express your creativity with a guided craft or free art project
Thursday the 6th – Build It Day
Movie: LEGO batman movie (PG; 104 minutes)
Activity: Building Challenge! How many ways can you build? (LEGOs, K'Nex, Keva planks, imagination blocks, and more)
Friday the 7th – Comfort Food Day
Movie: Cloudy With a Chance of Meatballs, (PG, 89 minutes)
Activity: Charlie and the Chocolate Factory read aloud - Listen to a librarian read the book while munching on some yummy chocolate and sipping hot cocoa.
Printable Youth Calendars
Find our latest calendars in an easy printable format.
Special Collections for Kids
Kits for Kids Under Five
We have board book kits, toddler story bags, and preschool story bags. Check out all our reading kit options.
Beginning Reader Kits
These kits are designed for children who are just beginning to read independently. They feature 5 to 8 books from a phonics set, sight reader set, or the classic bob books. They also include parent notes. Find a beginning reader kit today.