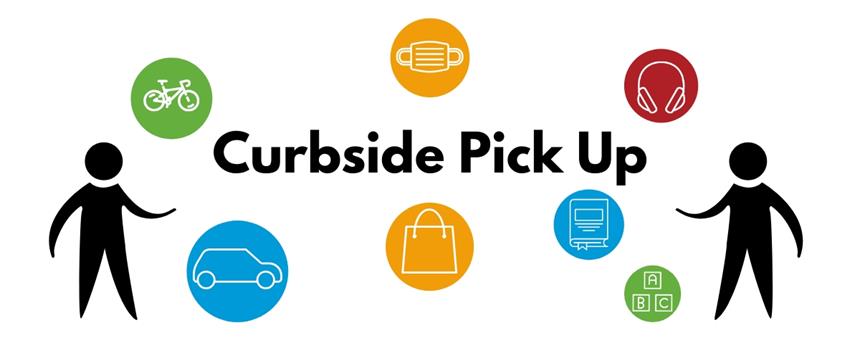 Have holds to pick up? Anchorage Public Library has options to meet your schedule. Stop by any location, anytime, during posted service hours for outdoor holds pick up or for faster service, schedule an appointment for curbside and we'll have everything ready to go when you get here.
How do I place and pick up holds?
Reserve your APL items online or over the phone using our Holds system.
We'll take a few business days to find your Holds and get your order ready. If your items are coming to us from other APL locations it may take longer, so keep an eye on your account!
You may receive a hold notification and the item will display as ready in your account.
Once your items are available, you have two options for picking them up:
Make an advance appointment:
Schedule an appointment for curbside pickup. You must make the appointment at least two days in advance. Arrive at your designated appointment time and call the posted phone number. Items are already checked out and bagged, so there's no waiting.
Come to the library parking lot during our posted operating hours:
Go to the APL location that you selected for pickup. If you are at a branch (Chugiak-Eagle River, Gerrish, Mt. View, or Muldoon) call the number posted in the parking lot. If you are at Loussac Library come to the main entrance and ring the doorbell. You will have to wait for staff to pull your holds and check them out to you.
Who can place holds?
Patrons with a physical library card or verified card number, whose account is in good standing. Holds are unavailable for Temporary Card Holders. Temporary Cardholders have access to many of our eResources, or can come to the library to get a verified card.
What time can I pick up my holds?
Holds pickups are available at Loussac Library Monday through Saturday, 10a-6pm. Curbside appointments are every 30 minutes during these hours. Branch library appointments and pickups are available during posted business hours.
Who can pick up my holds?
Anyone may pick up your items, but they must present your library card or have your library card number in order to pick up your items. Staff will not release items to those without a verified library card number. 
What items can I check out?
Currently only items from Anchorage Public Library locations are available for holds. Materials available: books, CDs, Playaways, DVDs, youth STEM and story kits, and book club bags.
How many items can I have?
Requests are limited to 10 items per Library Cardholder at a time. Multiple card holders may combine into one pickup. 
How much does it cost?
There is no fee for this service.
What happens if I miss my curbside appointment?
On the day of your appointment your items are checked out to you. We ask you try to be prompt and come during appointment window. If you arrive late, please call the number posted in the parking lot and tell us when your appointment time was. Items will be checked back in and made available to others at the end of the business day.
What if I need to cancel and reschedule my appointment?
Life happens. We understand. If you are unable to keep your scheduled appointment we appreciate the cancellation so another patron may grab that spot. Cancellations with less than 24 hours notice will result in re-shelving of items and a new holds request and appointments will need to be made.
What if I do not feel comfortable using the curbside service?
You can reach out to staff at 907-343-2910 or e-mail jamie.white@anchorageak.gov for additional support.
What if I no longer want to check out the items I have on hold?
Please call 907-343-2975 and ask to be connected with staff at your library.
How do I return my items?
Please use our outside book drops. All books will be placed in quarantine before being placed back on shelves. If you have a bag or STEM kit checked out, please do not return it in a book drop. These items may be returned to a staff member by calling the curbside number posted in the library parking lot, or by ringing the doorbell at the Loussac main entrance.
I returned my items, but my account says they are not checked back in yet.
In order to ensure the safety of our staff and customers, we are placing all returned items into quarantine before checking those items in. Your items should be marked returned within 3-5 business days.
What are the safety precautions your staff is taking?
All staff members are required to wear gloves, a face covering and will practice social distancing from other staff members and members of the public during the curbside service.
What if I don't have a car, but still want Curbside Pickup?
You don't need a car to use our curbside pickup service. You can walk, bike or drive to your appointment.