The Library is currently working on a strategic plan for 2019-21 to help us narrow our focus and deliver better service to our community. Read on to learn more and get involved.
Purpose & Goal of Strategic Plan
Since the Library Community Plan of 2010, the Library has done a remarkable job of carrying out the plan recommendations and has transformed itself into a community hub for education, exploration and self-improvement. However, since the plan was released, the Library's budget and staffing levels have decreased. The Library has reached a point where we've spread ourselves too thin and are trying to be all things to all people. We provide a lot of important services, but many people in the community don't know what we do and don't understand the Library's role in the technological age.
Our goal is to develop a 3-year strategic plan that is grounded in community input and data so the Library can better understand what our community needs, hone in on several key areas where we can be most effective in serving those needs, and then make sure community members (especially elected officials) have a strong understanding of the Library and value it as an essential community resource. The strategic plan should also help the Library figure out what services and projects to say 'no' to.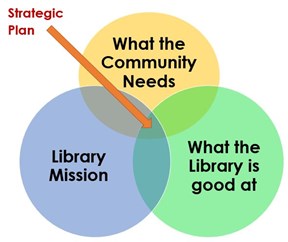 Process
The Library Strategic Plan is lead by a committee of Library staff representing locations and departments across the system. The team is supported by consultant Cheryl Gould with Engaged Libraries. Cheryl has guided libraries across the country in strategic planning and staff development. In April 2018 a group of 14 Library staff were trained in advanced facilitation skills and those staff are leading the strategic plan outreach.
Timeline
Planning and preparation: May-June
Internal research and staff input: June-July
Community input: August to mid-September
Data analysis: late September
Session with consultant to analyze data and plan next steps: Oct. 1 & 2
Strategic Plan creation: October-November
Strategic Plan approved by Library Advisory Board: December
Strategic Plan implementation: 2019-2021
Public Input
We want to know--what keeps you up at night? Where do you think our community is headed? What skills will our community members need to be successful in the future?
Your feedback will be used to create a plan grounded in data and community input. This will help us focus our programs and services in the areas of greatest community need.
We're gathering community feedback through an online survey, one-on-one interviews, focus groups, tabling at high-traffic locations like Dimond Mall, and visiting community meetings.
To share your thoughts and get involved:
2010 Library Community Plan
The Library completed a major strategic plan in 2010 that has been our guiding plan to this date. The cool thing is, despite drastic budget cuts through this period, we actually followed the plan and delivered what the community asked for!
Highlights of the 2010 Library Community Plan
Results of Library Community Plan Recommendations:
Recommendation: Collaborate with community groups to offer a wider range of programs that engage new users and engage people who do not traditionally use the Library.
Result: Tradition Tuesday, Sensory Storytime, Job Shop, and tons more!


Recommendation:

 

Upgrade tech resources.
Result: increased bandwidth, added iPads, chrome books and laptops for check out.


Recommendation:

 

Create a teen center. 
Result: created Teen Underground at Loussac Library.


Recommendation:

 

Expand and promote foreign language resources.
Result: working with MOA on a language access plan to provide translations services.


Recommendation:

 

Create opportunities for feedback and engagement from users.
Result: created new website with feedback form and increased two-way communication through our social media.


Recommendation:

 

Create an inviting entrance and more engaging learning environments at Loussac.
Result: Loussac Library entrance renovation.


Recommendation:

 

Increase cost-efficiency with automated materials handling and use savings to improve public services.
Result: conducted LEAN review of our major work flows, added automated materials handling at Loussac and coming soon at Chugiak-Eagle River.


Recommendation:

 

Establish a core of partners to address community needs.
Result: we collaborate closely with Anchorage School District, AK Dept. of Labor, National Science Foundation and hundreds more government, nonprofit and business partners to bring a wide range of services to Library patrons and the community as a whole.