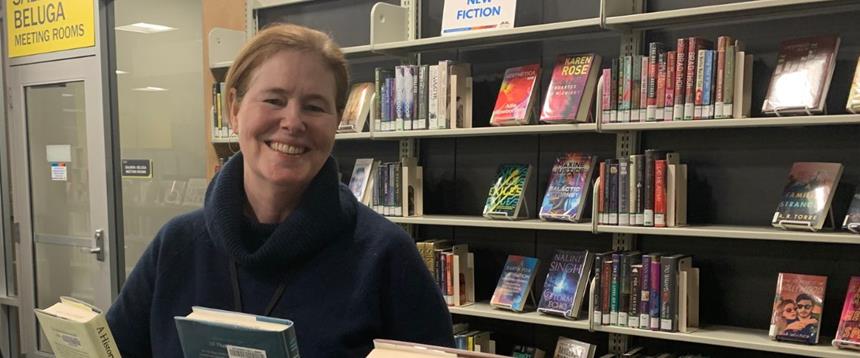 In October 2022, Anchorage Public Library welcomed Virginia McClure as Acting Library Director appointed by Mayor Dave Bronson. She was confirmed by the Anchorage Assembly on December 20. We hope you enjoy our welcome video and learning more about Director McClure, including how she started in public libraries, her vision for APL, what book she always recommends, and whether she likes pizza or tacos best.
A Message From The Director:
I grew up in Lexington, KY, in the central bluegrass region of the state. My first career was in restaurants, and I worked in kitchens in a variety of places around the country. While I will always enjoy cooking, I found that I wanted a career with a greater capacity to help people and public librarianship seemed like the perfect fit.  
My library career began with the Lexington public library system where I served as an adult services reference librarian, eventually taking on additional responsibilities as Kentucky room manager and adult services assistant manager. As Kentucky Room manager, I maintained the non-circulating special collection of Kentuckiana, which included historic books, periodicals, and photographs as well as an extensive collection of genealogical materials. During this time I was named a 2014 innovation leader in collections for the Real Madeleine Pollard eBook, by the Urban Libraries Council. 
I started with Anchorage Public Library in August of 2014. I was living in Kentucky and had a chance to visit Anchorage in the spring of 2014 to assess a set of personal archives for preservation. I enjoyed my visit so much and had some amazing experiences such as flying to Denali and standing on a glacier (the experience of a lifetime) or just walking along the coastal trail was such a great way to get to know this town and the welcoming, friendly people who live here, I immediately started looking for library positions here and was thrilled to be hired as the Mountain View Library branch manager.  
As the branch manager, I helped mountain view support the diverse needs of its community with core services and innovative programs including 3d printing, early literacy storytimes, and the first Job Lab program. I also supported branch staff by stepping in when required, to serve the day-to-day needs of library patrons connecting them to print as well as electronic resource reference services and offering readers' advisory (the skill of finding just the right book to meet a patron's wants and requirements).  
After two years or so I was promoted to assistant director under Mary Jo Torgeson. In this role I took on the responsibility of supervision of all library branch managers as well as adult and youth services managers. I provided senior level, system-wide, leadership and strategic direction, and outcome measures in alignment with the library's priorities as well as supporting system wide initiatives and projects. I focused on learning new strategies for collecting and interpreting library data and bringing better project management methods to library initiatives.  
Additionally, I was part of the team that led Anchorage Public Library through the large-scale renovation of the Loussac Library, an extensive, community centered, strategic planning process; managing a flooding crisis in the archival Alaskana collection; and response to the 2018 earthquake that severely impacted the Chugiak-Eagle River library branch. 
In February of 2019 I resigned from the library to pursue other interests, including relocating to Tuscaloosa to pursue an MFA in book arts from the University of Alabama. I have been interested in letterpress printing and book design for several years. My initial plan was to focus on fine press; however, my program also introduced me to artists' books, and I have become absolutely fascinated by this art form. Books are the core of any library, and understanding their craftsmanship is both captivating and inspiring.  
I'm proud to have been selected to serve as Anchorage Public Library's new Director and it has been a joy and honor to return to such a vibrant and successful library system. 
My plans are simple- to continue to fulfill the mission of connecting people to education, information, and community. At the same time pursuing our vision for Anchorage to be an educated and connected community where our Library is an essential center for learning, inspiration, and community pride for people of all ages, backgrounds, and cultures. In the short time I've been back, I've focused on restoring a sense of normality after the COVID pandemic. I will continue this work so that staff are able to provide the very best service to all residents of the Municipality of Anchorage from Girdwood to Birchwood and everywhere in between. 
My immediate goals include expanding library services to North Anchorage by guiding the Downtown Library project to successful completion, building community momentum for a South Anchorage branch, continuing to improve access to the Alaska Collection at Loussac Library, and maintaining a library collection that represents our diverse community. I will also focus on the safety of library patrons and staff, supporting early literacy and community education efforts, and ensuring that everyone is welcome at their Anchorage Public Library. 
On a personal note, I am married to a longtime Alaska Transplant, Mead Treadwell, who has introduced me to many lovely people and places in this state. Finally, I'd be remiss if I didn't also share, I have three cats (as a good librarian should) and an Alaskan husky (who is disinclined to pull and loves naps).