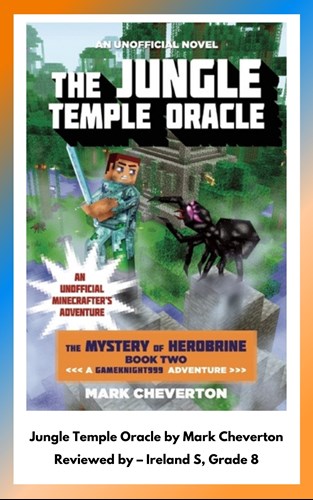 This was an amazing Minecraft book. It continues my love for this series. A Minecraft virus, Herobrine, appeared in the previous book. The plot of this book is the search for the Jungle Temple Oracle which may hold the key to defeating Herobrine. Along the way, they learn of Shaikloud, Queen of the Spiders. Compared to the other books in the series, this one is slower, although, the main character, GameKnight, is undergoing extreme emotional trauma because his sister is now in the game. I would recommend that everyone read The Invasion of the Overworld and the other GameKnight999 books before the Mystery of Herobrine series because events at the end of the books carry over to the beginning of the next book.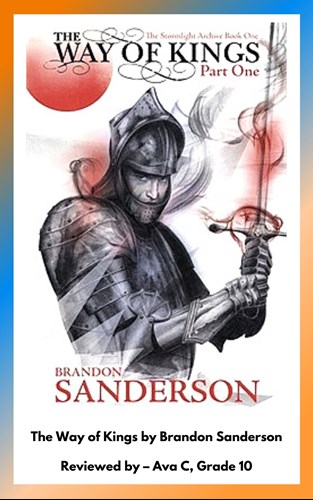 This book is told from multiple perspectives and each chapter focuses on one of the main characters, including Kaladin the soldier, Shallan the scholar, Adolin Kohlin the son of a high prince and Dalinar Kohlin a high prince and soldier. The storyline follows the effects that an assignation of the Alethi king has on obscure and prominent figures of the kingdom. When you first see this book, it may look intimidating. I promise it's not. During the beginning of the book I felt like I was being introduced to so many new characters and settings. I was definitely confused and was seriously considering taking notes! After getting into the story, you get more comfortable with the concepts that the author is introducing. The scope of the story is huge and you get immersed in a whole new world. I would recommend this book to anyone who enjoys epic fantasy stories.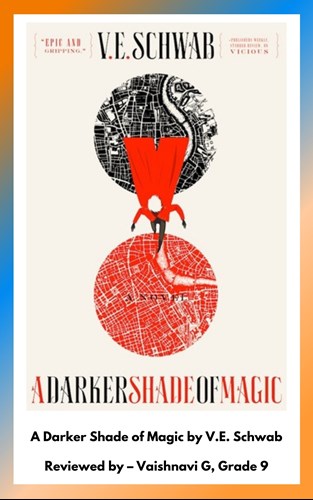 A Darker Shade of Magic by V.E Schwab is a fantastic, adventurous story following interesting characters worth rooting for. It is set in a universe with multiple parallel Londons (Red, Grey, White, and Black London). Only rare magicians (Antari) can travel between them. Kell is an Antari raised in Red London and he has a dangerous hobby — smuggling. He is willing to bring objects from different Londons to give people a chance to glimpse the other worlds. When things go awry and Kell is forced to escape to Grey London, he meets Delilah Bard, a wanted thief, and together the two opposites embark on a perilous journey to save their Londons. The pacing in the book is well done and the world grabs you. The beginning is a little slow since it takes a bit to get into the world. I would have also liked to see better world building but that can always come in later books. If you have ever read "The Invisible Library" by Genevieve Cogman, then this will have a familiar taste of wonder, magic, and some quick-witted, loyal characters.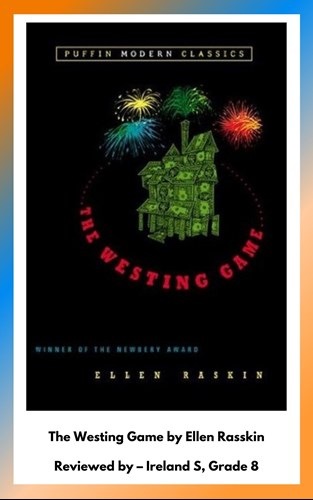 The Westing Game, by Ellen Raskin, involves the murder of Sam Westing and the competition to win his inheritance and expose the murderer. Although, it had a good plot, it did not draw me in like other books. The characters were not described very well and the chapters jumped from place to place. One of the main characters, Turtle, I believed to be a boy and she turned out to be a girl. Despite the confusion, towards the end it picked up and got interesting and fun. Although there are better books, I would recommend it to those who like murder mysteries. Similar books would be Ready Player One, by Ernest Cline, because it involves a dead man's fortune and a game to get it.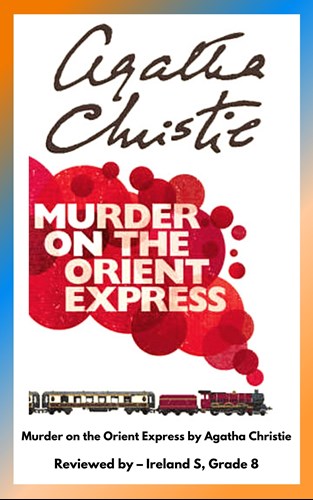 This book is about a murder onboard the Orient Express, if you haven't guessed that. The main
character, Hercules Poirot, is on the train when another passenger is killed. He is asked to
solve the mystery before the train gets to the next station and the murderer can get away.
There are a multitude of suspects on the train that Poirot must interview.
This was a great book, but if you want a better introduction to the characters, it helps to watch
the beginning of the Kenneth Branagh movie released in 2017. I liked that the book was all
about noticing small details and Poirot questioning himself and his thoughts. I would have liked more character development at the beginning. Most of the characters I knew from the movie, but the book didn't provide the same level of explanation. You get to know Poirot on a personal level as you read about his thoughts and investigation. I recommend this book to people who enjoy mysteries.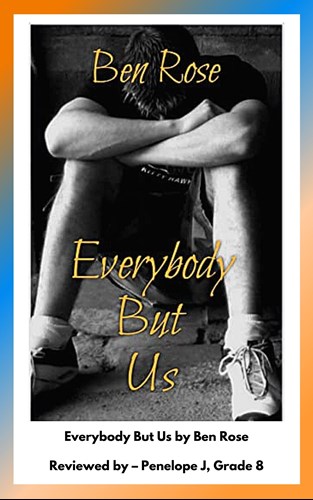 I read this new release YA novel, EVERYBODY BUT US, by Ben Rose. This is the best, bar none, I have ever read. T
he author is one of the most talented writers I have read in my life. He's also undisciplined and erratic. He's extremely gifted, in an erratic sort of way. He's reminiscent of the beat writers I read last summer. Kerouac, Burroughs, Ginsburg, Hunter S. Thompson. Ben Rose does it with gut instinct instead of discipline and technique.
And, that very thing is what makes this novel so off the charts great. Here is a raw and fresh talent in a world of stale pretenders.
This story captures the essence of being a bi-homeless-chick in the sprawling and at times unsavory realms of The five boroughs known as New York City. That is amazing as the author identifies himself in various venues as a cisgendered heterosexual. That he has done extensive research on his subjects is evident.
I used to reside in New York City, and he gets it exactly right  

This book should be in every High School classroom and read by Freshman psychology classes in universities (I got an early college credit for taking one.)
If I ever get back to New York, I'd like to hold the book in my hands while I ride the A train. (Read it for this reference.)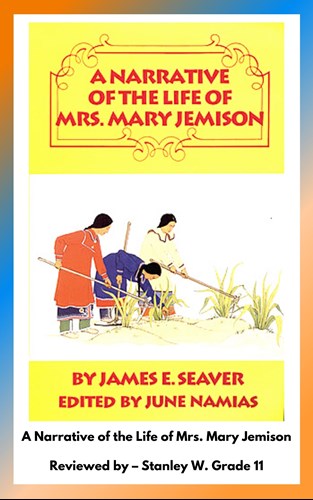 This is a first-person narrative of Mrs. Mary Jemison and her experiences with the Seneca Indians in the 18th and 19th centuries. As a young child, Jemison and her family were kidnapped by Indians. After being forced to walk through the woods for multiple days, her family is murdered. The Indians, however, spare her life. She is then brought to a village, where an Indian family adopts her. Jemison then recalls her experiences living with the Seneca Indians and her experiences during the French and Revolutionary Wars. The story gives an insight into previously unrecorded historical data on the lifestyles of Indians in an eventful, exciting manner. There are, however, several graphic and violent scenes in the story, which may seem unpleasant to some readers. A Narrative of the Life of Mrs. Mary Jemison opened my eyes to what life was like before the European colonization of the Americas and sparked my interest in United States History.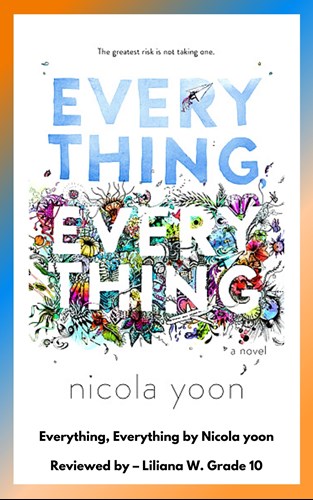 I learned that half of the world suffers from something horrible. If it's from sickness to straight up suffering from liars. In Everything, Everything I learned that this Maddy character had a lot going on in her life for 18 years. And without her going to Hawaii and getting sick she would have never figured out that she doesn't have SCID. But I also learned that everyone only has one life and that you have to live it to the fullest. Go on adventures and fall in love, a lot because we only have one life and we need it now more than ever, and then at the end you can look past your life and realize how amazing it was. We will make mistakes, yes but maybe that's what we need to get started on the adventure of a lifetime. Life is short, yes, but we get to choose how our life is going to be, and that no one gets to decide what our life is. For Everything, Everything by Nicola Yoon, I totally recommend this book.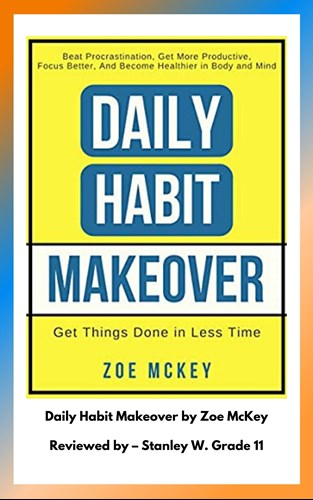 If you are looking for a book to help you achieve your goals, this is the one for you. Daily Habit Makeover is split into five different sections, where the author provides advice on overcoming procrastination, increasing your productivity, working philosophies, increasing focus, and daily routine changes. Zoe McKey does an incredible job of explaining her train of thought and providing important feedback to people who want to make changes in their lives. I first took interest in this book because I wanted to change old habits and become a better person, and this book gave ample information to help me do so.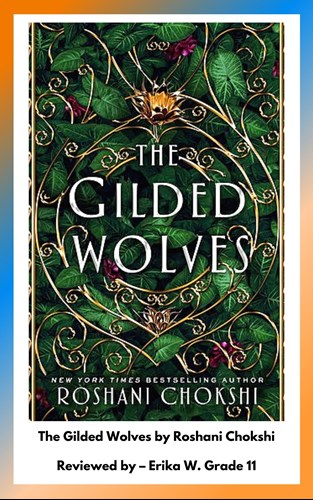 This is the first in a trilogy of heist books and I liked it, but not a lot.
Good things: diverse group of characters that have a fun dynamic, the actual heist part was very suspenseful, and the little Easter eggs and quirks in the characters and setting made it come alive.
Bad things: other than the heist parts the book was a bit boring, the setting (France 1889) has been done a lot and I'm tired of it.
Overall, it's worth a read if heist books or period dramas books are your thing, but I was not a fan.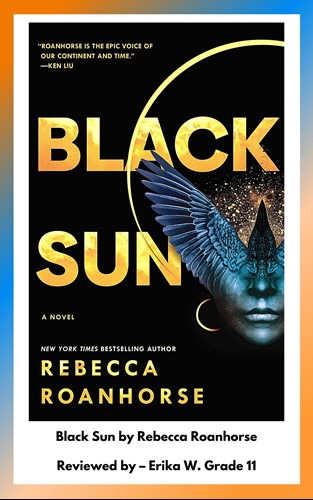 I'm a sucker for a good mythology book and this did not disappoint, I loved it all: the characters, the pacing, the plot (duh), it was all GREAT. I thought this would be some slow, dense book that I would have to force myself to finish and wow was I wrong. First of all, the representation was unexpected but wonderful and I really appreciated that. Secondly, while alternate point of views will usually clunk up a book, in this case it was perfectly executed. It helped round out the world building and build on the tension in the book.
Bottom line: I can't recommend this book enough.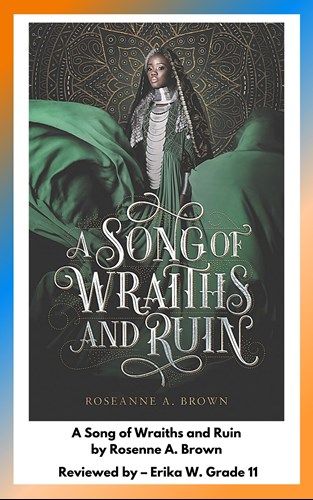 How many good plot twists can a single book contain? I used to think the answer was only one, maybe two. Then I read a Song of Wraiths and Ruin, and now I'm not okay. It takes a little to get into because of typical world building stuff BUT it is so worth it. Not only is the enemies to lovers really good (the stakes are very high on BOTH sides to have them kill each other) but the characters are all so great and relatable. I just- I'm in shock. Plot twist after plot twist and the agony
AND
the character growth was truly inspiring, they really nailed it and it was wonderful to see. It's high fantasy with (at least for me) pretty unfamiliar mythology/language, so it does take some time to figure everything out but it's so so worth it.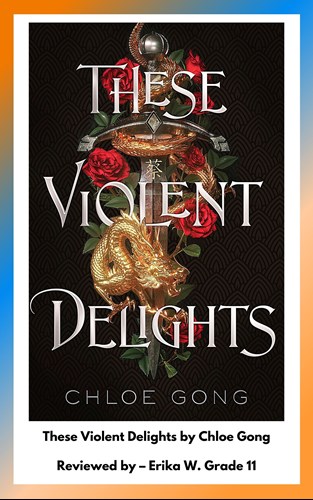 Set in 1920s Shanghai, it's a love story and mystery with Sci-fi elements that has become super popular for very good reason. VERY cute book, interesting love story, interesting mystery, everyone who's a fan of retellings and sci fi/ fantasy type books should go give this a try. I loved all the side characters but the slow burn romance between two of the side ones was too good. It has a couple dialogue issues but overall an excellent book and definitely worth reading. I do wish it had a vocabulary guide for the words from the various different languages, that definitely would've been useful (context clues are pretty minimal).
This is a perfect example of why Marissa Meyer does the BEST retellings. I loved everything about this book. The romance, the character development, the inevitable doom, it was all so great. 
Lady Catherine (the future queen of Hearts) just wants to be a simple baker but all her plans are upended when her parents force her into a courtship with the king. BUT at the same time, she meets a very handsome and kind court joker who has some secrets of his own. They go on adventures together while trying to avoid destiny and it's all so cute and heartbreaking. 
All the best characters from Alice in Wonderland make an appearance and the worldbuilding is phenomenally done. I have no complaints.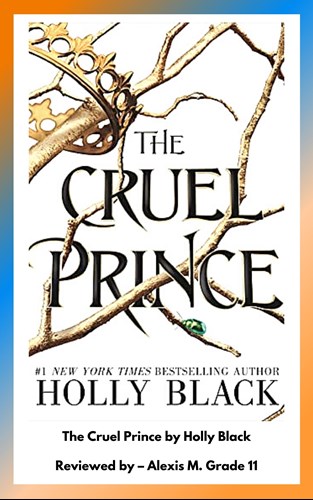 I loved this book, it is one the best books I have read this year and may end up becoming one of my favorite books ever. The Cruel Prince follows Jude, her parents were killed in front of her when she was seven and she, along with her sisters, was taken to live in Faerie. Ten years later Jude is determined to prove she belongs there by becoming a knight for the High King, but when things go wrong at the coronation she must team up with Cardan- the youngest and cruelest prince of Faerie, and also the person she hates most- to survive. This book is full of twists and reveals that I never saw coming, and a very complex, morally gray character that I love. This is the first book in the series, and it is excellent. I would recommend this book to anyone who likes high fantasies and faeries.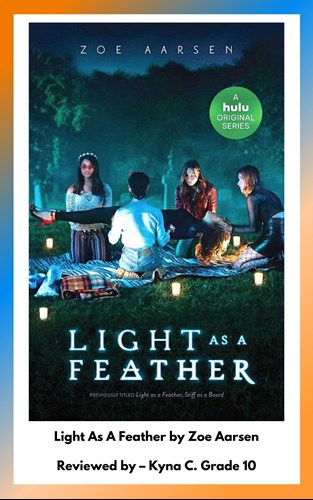 Light As A Feather is an amazing book. It is told from the perspective of our main character, Mckenna Brady. She's in her Junior year of high school and she's just joined Olivia Richmond's friend group which previously was just Olivia, Candace and Misha. She wasn't the only one to have been recruited to the popular group though; Violet Simmons, a new girl from outside of their small town, was also brought into Olivia's small group. At Olivia's birthday party, they decided to play a game called Light as a Feather, Stiff as a Board. While playing, Mckenna immediately begins to distrust Violet as she can see that Violet's usually quiet personality begins to come alive as she tells gruesome stories of each of the friends' death, except for Mckenna who she said she couldn't get a good read on. Mckenna's feelings of distrust worked into a feeling of downright terror when Oliva Richmond died exactly as Violet had predicted she would in the game. She begins a mission with Trey Emory, her neighbor who she soon will grow to like, to stop the rest of her friends from dying. Along with the help of Olivia's ghost who only gets angry when Violet and Trey weren't able to save Candace from dying. I highly recommend this book to anyone who loves spooky mysteries.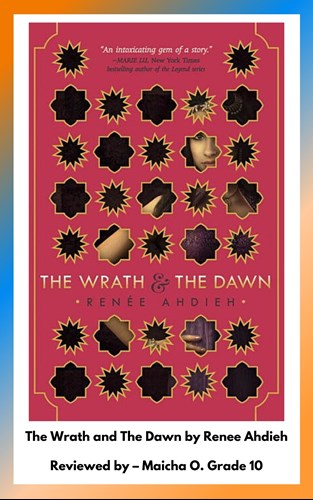 In the kingdom of Khorasan, where the Caliph takes in a new bride every night only to kill them at the first sight of dawn, a girl's wrath cultivates in return. The Wrath & The Dawn by Renée Ahdieh is a retelling of "A One Thousand and One Nights" set in the Middle East during the Middle Ages. The book follows Shahrzad, the daughter of a former vizier, as she volunteers to become a bride of the Caliphs for the night. What separates her from the others? She intends to be the last. Filled with anger and resentment from her deceased best friend, who fell victim to the hands of the Caliph, Shahrzad becomes fixated on seeking vengeance. Thus, she is propelled into the very same setting that killed her best friend, only this time, intending to survive the night and in the hope to kill the Caliph. However, the longer Shahrzad resides in the home of her enemy, the more she realizes everything is not what it seems. Shahrzad discovers many realizations about the Caliph, acquiring even more questions as her beliefs and supposed hatred becomes challenged. Renée Ahdieh and her skillful writing did a phenomenal job portraying such strong characters that it was easy to become sucked into the portal of their world. The novel reinforces a remarkably bold and powerful female lead and a charming enemies-to-lovers trope that will make readers want the story to never stop. Highly recommend 5/5 stars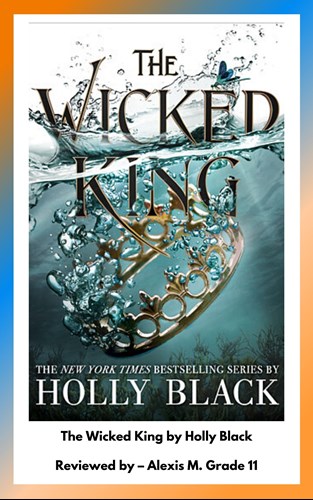 The sequel to The Cruel Prince, The Wicked King is a fantastic book. Taking place five months after the end of The Cruel Prince, this book follows Jude, in her new role as the High King's most trusted advisor, navigating court politics, and schemes, both her own and others'. This book is just as good as The Cruel Prince, and has just as many twists and turns. I love that we get to see more of Cardan and how he grew up, and that we get to see Jude be more unsure and vulnerable as she attempts to figure everything out and make everything safe for her brother. This book does not have the common problem of being a slow second book, I couldn't put it down, and it only furthers my love for these characters and this world.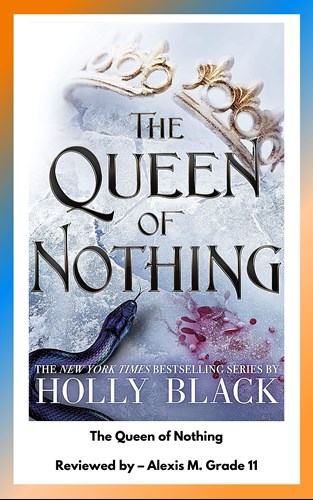 The Queen of Nothing, the third and final book in the Folk of the Air series by Holly Black, is a wonderful conclusion to the trilogy. We start off with Jude in the mortal world when Taryn comes and asks Jude to switch places with her. As soon as Jude enters Faerie she gets drawn into plots against the crown and she has to untangle her feelings while fighting for what is now hers. I couldn't put this book down, I read it in one day and it left me happy and satisfied. The only problem I had with this book is how short it is, I think if it had been longer, certain things could have been developed more, but other than that I'm very happy with The Queen of Nothing.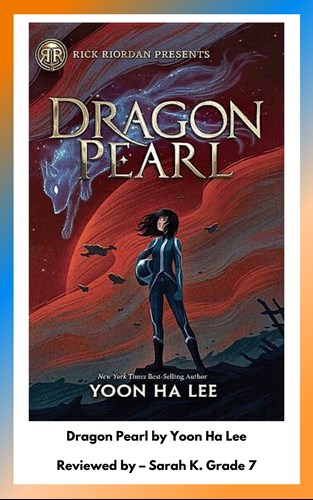 Dragon Pearl was an intriguing and refreshing read. The book incorporates traditional Korean mythology, space, and sci-fi, a combination of old and new themes. The book follows Min, a thirteen-year-old trickster gumiho fox that can shapeshift, manipulate human emotions, and make people see things that aren't there. Min finds out that her brother deserted the Space Forces to find the powerful dragon pearl that can terraform worlds. She decides to clear his name by leaving her planet of Jinju and embarking on an adventure of her own using her powers, intelligence, and quick thinking. Along her journey, she meets and befriends tigers, dragons, goblins, space pirates, and even ghosts. Although the second half of the story was a tad confusing, I found the ending unexpected yet spectacular. I would recommend this book to anyone who wants to read something new or adventure-filled.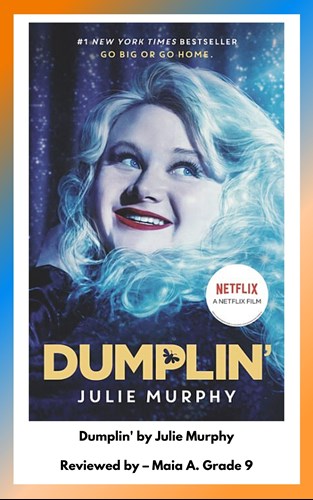 Dumplin is about a girl in her hometown that doesn't feel like she fits in. Her mom is this former beauty pageant winner that everyone in the town adores, but she looks nothing like her mother. She feels shame for this, until she hears that her perfect best friend is entering the exact beauty pageant that her mother had won years and years ago. At this point in the book, she decides to enter the pageant even though she doesn't resemble the rest of the girls, and she encourages a group of her friends that are also outcasts to join with her. Granted they entered the pageant knowing they weren't going to win they entered to show the town that you don't have to be perfect and skinny to be a part of a pageant. During the pageant she remembered her aunt who was also an outcast, but she could have cared less and that is exactly what she loved about her aunt. This book exactly resembles the movie, and I love the central theme of the book. This book conveys the message that perfection isn't what everyone imagines it is, it is whatever you make of it.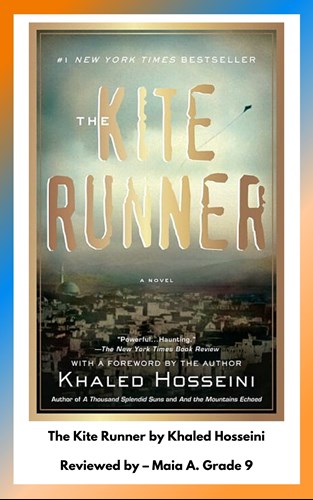 The Kite Runner was a truly eye-opening experience, with not only the diction but also the figurative language that Khaled Hosseini used to capture his audience. This book depicts not only the real war that has been happening in Afghanistan throughout the years, but also the internal wars that have been happening in communities throughout Afghanistan and the people that live in these communities. At first, this book can be a little challenging to start, but I promise if you just keep reading, you'll never want the book to end. This book led me to researching more about the wars in Afghanistan and how they have affected the people there. The book is about a boy and his internal struggles growing up in this land that in one night completely changes. Then as it changes, he moves away and changes with it. It comes to a full circle moment when he has to return to Afghanistan to save someone that is near and dear to someone that he loves.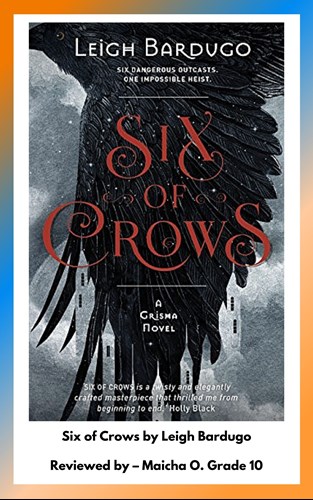 Six of Crows by Leigh Bardugo is a fantasy novel that follows 6 teenagers as they execute an impossible heist. Set in the gritty city of Ketterdam, the young criminal prodigy Kaz Brekker along with his gang lives every day as if it's the last. This is until he is approached by a wealthy merchant to constitute a deal that will change his life. The infamous thief must break into the country's most guarded military stronghold to acquire an experiment dangerous to the country's establishment in exchange for money. He complies with the deal. Now, Kaz must form a group that is willing to risk everything to achieve their goal. Each driven by diverse reasons: a Grisha, a runaway, a spy, a sharpshooter, a convict, and a street criminal must defy all rules and cooperate to accomplish their wishes. Bardugo writes her morally gray characters in such an emotional way that makes readers feel their pain and sorrow. With the integration of a found family trope, magic, action, humor, and a little darkness, Six of Crows establishes a creative and skillful plot.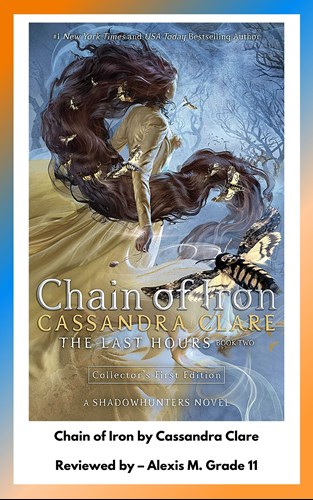 Chain of Iron is such a good book. As the sequel to Chain of Gold by Cassandra Clare adds onto the Shadowhunter world and provides interesting background information for the sequel series The Dark Artifices. Chain of Iron takes place four months after Chain of Gold and there is a serial killer on the loose in London. The serial murderer is killing Shadowhunters in the night and leaves no trace of who, or what, is killing them. James Herondale is having nightmares, his sister Lucie is keeping dangerous secrets from everyone, and Cordelia Carstairs is mysteriously having trouble with her mythical sword, Cortana. This book has action, romance, murder mystery, and secrets, so there's something for everyone. I really love this book despite the fact that I figured out who the murderer was by the end of the prologue. The only complaint I have is how many cliffhangers there are and that I have to wait another year before Chain of Thorns comes out.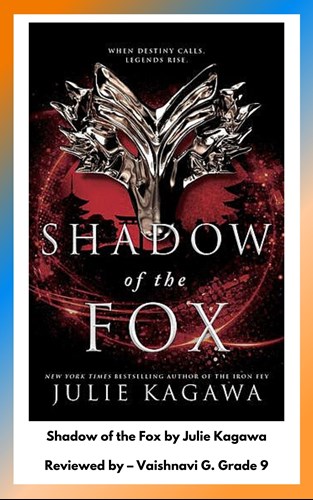 Shadow of the Fox by Julie Kagawa is a gripping story about a half-fox girl and a deadly Samurai assassin set in a beautiful Japanese-inspired world. The story begins when a half-demon named Yumeko's home is burned down and she is told to deliver a powerful scroll. Tatsumi, a demon assassin carrying a sword that holds the soul of a dangerous demon is ordered to hunt down the scroll. In a twist of events, they are forced to work together to embark on a journey while making some loyal friends and meeting unforgettable characters. The language in this book is beautiful and the world is well-developed. But what really sells this story for me are the characters. Each one of them is unique to themselves and they all face their own challenges even while fighting for each other. While I think some might find the language too dense at times, I enjoyed it thoroughly. If you love beautiful worlds, lovely language, and lovable characters, I would recommend you read Shadow of the Fox.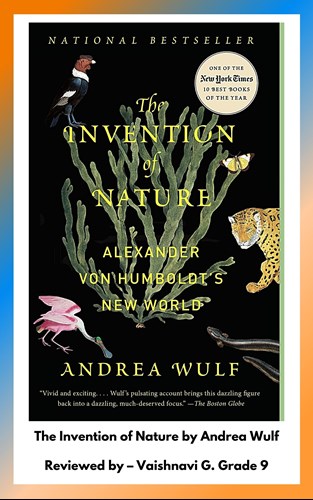 The Invention of Nature by Andrea Wulf is a nonfiction book that mostly tells the tale of a forgotten scientist named Alexander von Humboldt. Humboldt was born in 1796 to an aristocratic Prussian family. His father died when he was young, so he and his brother were left to be raised by their stoic mother. The book follows the young man as he abandoned all things considered sane and embarks on a journey with science. Humboldt swims in an ocean of enlightenment while fighting through the waves filled with war, expectation, and loneliness. In this journey, he travels to different continents, documenting nature like never done before, and with his newfound knowledge, he fundamentally changes the human perception of nature itself.  Andrea Wulf carefully peels back layers of not only who Humboldt was but also the enthusiasm and instability of the time period. I would recommend this book to anyone interested in reading about a complex and forgotten man who is deeply rooted in your modern perception of nature, in the literature you read, the paintings you admire, and in many cases, the person you are.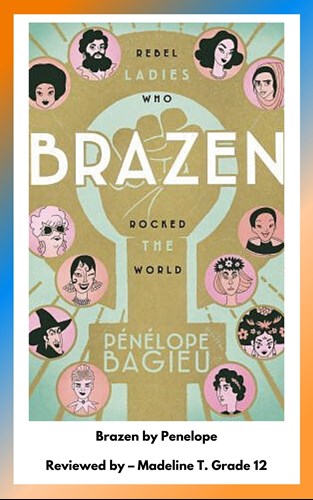 This graphic novel features a collection of short stories detailing the lives of many incredibly brave women throughout history who made an impact on the world. Not only was this book engaging and entertaining, it was also educational. The women featured in this graphic novel come from all areas of the Earth during different time periods. I loved learning about countries I have never been to, during time periods far before mine.  Each story is different, but ties together beautifully through a colorful art style that will keep your eyes glued to the page. Overall, I loved this book with its amazing artwork and inspiring stories!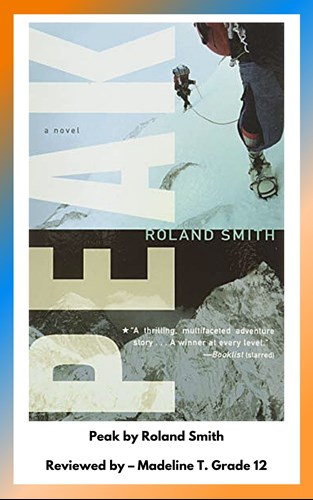 This was a fantastic novel! If you are looking for a quick and exciting read, this is the book for you. The story follows a young boy named Peak who channels his love for climbing into a thrilling race against time to the top of Everest. By reading this book you will get a glimpse into the world of climbing and experience the unforgiving landscape of Everest. The characters are charming and you will want to root each one to the top. The story is full of twists and turns that will keep you turning the page and reading the next chapter.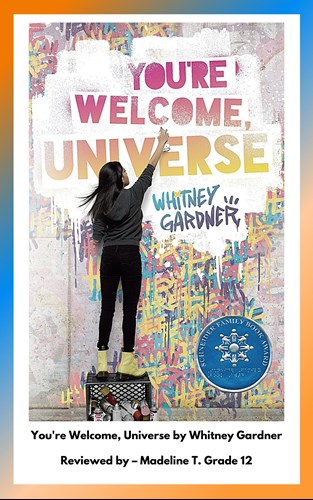 You're Welcome, Universe follows the story of a deaf girl who finds herself in a graffiti war after moving to a new school. This book tells a captivating story coupled with illustrations of the graffiti. You will also get to further your knowledge about the deaf community. Whitney Gardner does an excellent job of creating understanding through her writing. She will leave stretches of dialogue blank in order to communicate the challenges of reading lips. It is a fast paced read with heartwarming characters. I hope you read this book and fall in love with it as much as I did!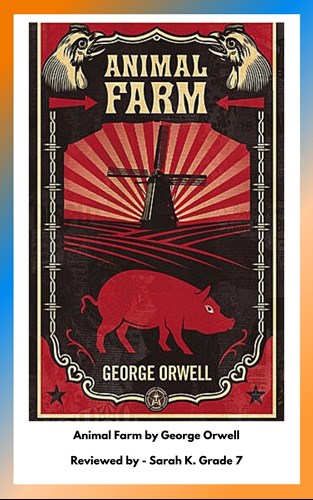 I very much enjoyed Animal Farm, an all-time cleverly written classic. At Manor Farm, the animals work under poor management from their irresponsible master. However, after an inspirational speech about living free from human slavery, the animals plan to rebel against humankind. The farm is renamed Animal Farm, and limiting rules are placed upon by the pigs. The animals work together to harvest food and feel a sense of pride and equity amongst each other. However, as a pig named Napoleon takes charge as the leader, he changes the rules for the better of pigs rather than everyone. Slowly but surely, Napoleon and the pigs become human-like, and the animals no longer recognize the difference between pigs and humans. Their once-dream of being free from human slavery has now ironically shifted. The story itself is an allegory of the Russian Revolution with historical symbols such as the Soviet Union, Stalin, and Trotsky. I particularly loved reading this book and also learned that with power comes corruption. I would recommend this book to anyone, but I think that older kids and teens would understand the lessons better.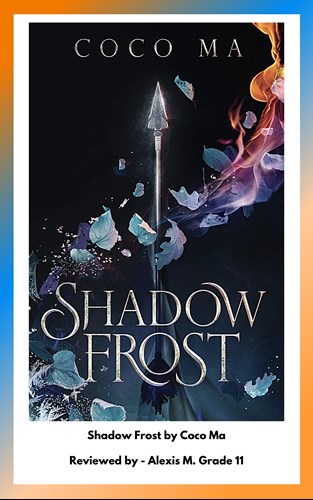 Shadow Frost is a high fantasy book that follows Princess Asterin and her friends as they hunt a demon that has been terrorizing Asterin's kingdom. This book has all the elements of a good book, there's magic, there's romance-without a love triangle- and there is a big plot twist. I really liked Shadow Frost, I'd give it 4 out of 5 stars. My only problem with this was that there were a lot of similarities between this book and other YA fantasy books in character's personalities, names, and events within the book. I think this is a great starting point for the series, especially since Ma wrote this at only 15 years old, and I can't wait to read the sequel.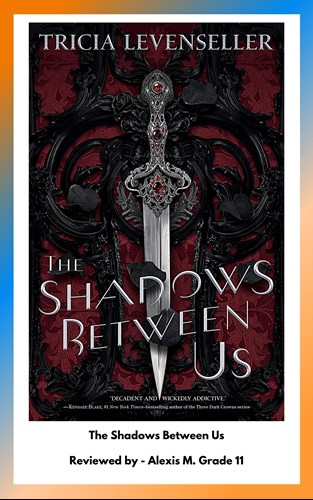 The Shadows Between Us is a fantastic stand-alone high fantasy novel about a girl named Alessandra who plays to woo and marry the Shadow King and then kill him and take over the kingdom. This book grabs your attention from the first line and keeps it until the last line. I loved to watch Alessandra and Kallias' relationship grow over the course of the book, and I love them individually. Alessandra is such an interesting character because she is so morally gray you never know whether or not she will do the right thing. One of the best things about this book is that their relationship exists without either of them changing for the other, Alessandra and Kallias let the other be who they are and don't want or expect them to change, which is almost never seen in YA books. This is one of the best stand-alone books I've ever read.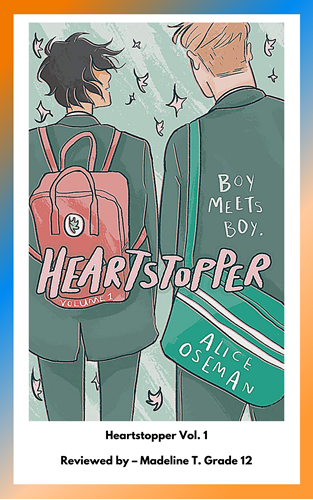 This graphic novel tells the story of Nick and Charlie. They start out as friends but then feelings begin to develop for each other. This story is beautifully told through a cute and simple art style. The pacing of the book is excellent and you will always be ready to turn the page and read on. The characters are relatable, even if you have not been through the exact same situations as them. The book tackles tough subjects such as bullying and homophobia, yet shows that love prevails. (P.S this graphic novel is so good netflix is turning it into a movie!)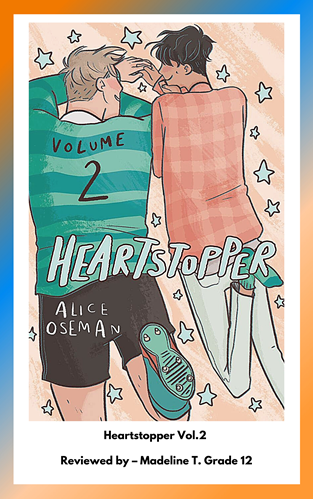 This is the second installment in the Heart Stopper series. In this book, Nick and Charlie get to know each other better and learn how to navigate their new relationship. They also have to learn how to balance their relationship with others while maintaining good grades in school. This book also deals with difficult issues such as deciding when or how to come out to your family and friends. Nick is openly gay, but Charlie is unsure if he is ready to tell the people around him. If you find yourself wondering what happens next after reading volume one, this is the book for you!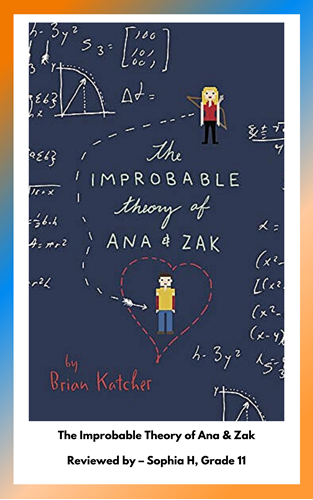 I absolutely adored this book. I always enjoy a good lighthearted romance, but this incorporated sci-fi elements that I wouldn't normally choose to read. Although I wouldn't say it's a book for people who are generally drawn to sci-fi, The Improbable Theory of Ana and Zak is a great way to begin transitioning into the genre.

The novel alternates perspectives between type-A, paranoid Ana, and laidback, uncaring Zak. When Zak is roped into participating on the Quiz Bowl team the same weekend he's supposed to attend the sci-fi convention of the year, he's devastated. But when Ana's little brother Clayton sneaks out of the hotel to the convention, Zak offers to help Ana find her brother. The unlikely pair work together to navigate every insane obstacle they encounter – from fighting Vikings to attending a wedding, falling in love along the way.

Like I said – this book is 100% worth a read. It's a quick read that'll have you hooked every second of the way. Their journey is unpredictable and fun, and I would highly recommend it to anyone.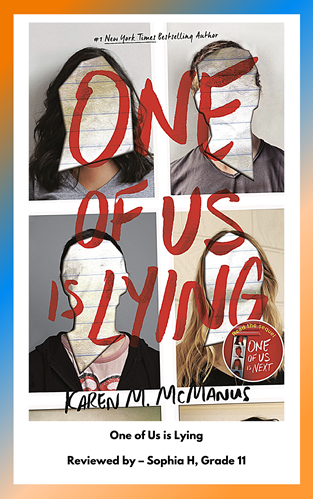 I will stand by this book until the day I die. It's definitely up there with my favorite books of all time. The romance is so well-crafted and it's only a subplot. The mystery these characters become a part of will rope you in and keep you turning pages into the late hours of the evening. McManus does such a great job developing each and every one of these characters as she switches first-person points of view between them; each character has so much depth.

This book is centered around goal-oriented Bronwyn, popular girl Addy, baseball star Cooper, and "bad boy" Nate. The four are brought together when a mysterious death unfolds before their eyes during detention, and they are all suspects.

McManus does well at concealing who is responsible for what and keeps you on your toes. The main plot aside, each character is combating something difficult in their personal life and we get attached wondering if they could be the killer. 10/10 would recommend.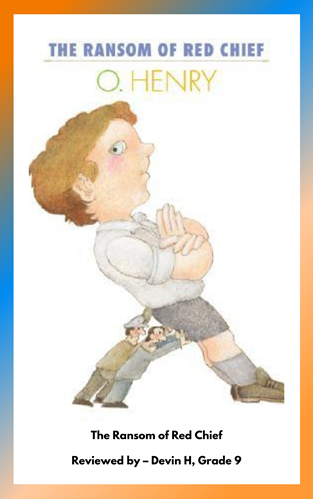 If you like short stories that make you laugh, Ransom of the Red Chief is really
an amazing one. It's a classic comedy in which a minor drives two grown men to the
brink of insanity. Ransom of the Red Chief was written in 1910 by writer O.Henry. It
shows you how one should never underestimate an opponent despite their age, weight
or size.
To summarize, two robbers who desperately need $2,000 decide to kidnap a
twelve year old kid named Johnny, who is supposed to be the "victim". The twist is that
the kidnapped kid quickly drives these petty, old, grumpy robbers totally crazy. Almost
instantly, the kidnappers realize that this may have been the worst decision of their
lives; and they promptly, regret capturing Johnny.
This is one of my favorite short stories. I really enjoy how it humorously
demonstrates the life lesson that one should NEVER make assumptions. Again, if you
just want a quick, fun read involving some big, tough guys who get tormented by a mere
child then this is the story for you.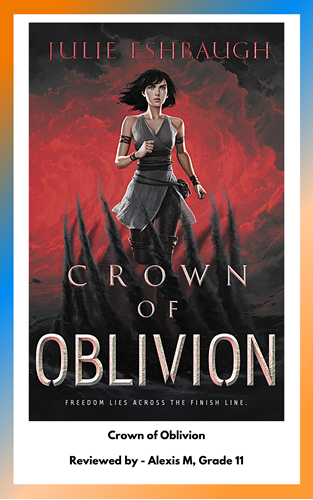 Crown of Oblivion follows Astrid who is a surrogate for the princess. This means that if the princess gets into trouble, Astrid is the one who is punished. This book follows Astrid as she enters a deadly competition-without her memories- to gain citizenships for herself and her family. I liked this book, I had some problems with it though. The world-building wasn't very good, I don't really know what kingdom Astrid lives in or what the magic rules are; I also found the class system in the book to be kind of confusing. I also felt like even though this is a stand-alone book, the ending felt unresolved, like it should have a sequel; I had a lot of unanswered questions that shouldn't have been unanswered. But despite my problem with the book, I did like it. I liked the plot, and it was just a fun read, I enjoyed it.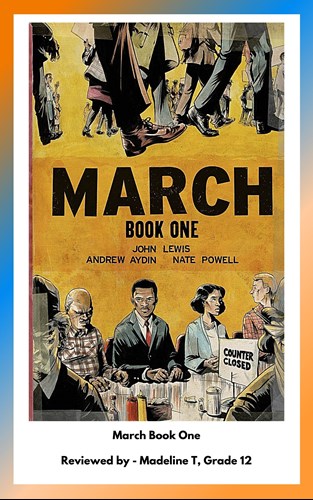 March is a comic book which details the events of the sit-ins and marches that took place in the south to protest the lingering segregation present in many privately owned businesses. Its plot is centered around the life of John Lewis, a farmer who grew up to be a congressman. He was a key figure in the civil rights movement and helped spread the philosophy of non-violence along with Martin Luther King. The story is told through powerful drawings. Despite being a graphic novel, the book is able to unravel the complicated history of America and communicate the feelings of the protestors to the reader. The comic book is an underrated medium for communication, John Lewis himself was inspired by a comic book about Martin Luther King when he was younger.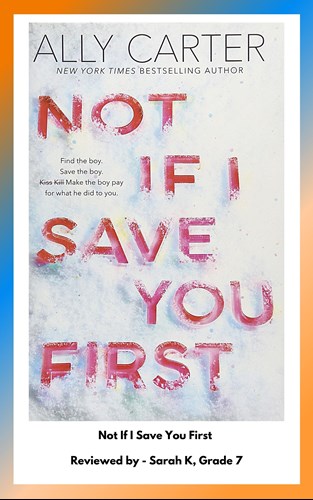 Not If I Save You First was an easy and intriguing novel to read. It had a mix of adventure, romance, action, and a bit of humor. Maddie, the daughter of the head of a secret service agent, and Logan, the president's son, were best friends since they were 10. However, after Russians try to attack Logan and his mother, their lives are changed. Maddie and her father unexpectedly move to rural Alaska, somewhere cut off from human society. Because of the loneliness, Maddie decides to write letters to Logan for two years, but he never replies. Over time, Maddie's anger and hatred towards him build. Six years later, Logan causes reckless trouble, which leads him to stay with Maddie in Alaska. He finds himself with a different Maddie, one who is distant and hates him. After Maddie's father goes away for the night, the two face a dangerous Russian assassin whose mission is to kidnap Logan. Maddie ends up trying to save Logan, even through tough obstacles, and in the end, their relationship becomes closer than before. I found that even though many of the scenes were unrealistic, I was addicted to the book. Overall, I liked the Alaska setting, wilderness survival part, and entertaining writing style.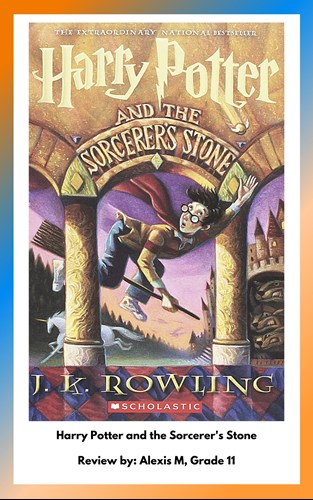 Harry Potter and the Sorcerer's Stone follows 11 year old Harry Potter through his first year at Hogwarts after he discovers he is a wizard. I liked this book but I don't think it lived up to the hype surrounding it. I enjoyed seeing Harry grow and make friends as the year went on but it wasn't very relatable being that it was about an 11 year boy. I hope that as I continue the series and Harry and his friends get older I will enjoy this series more than I do now. I would recommend this to younger people, but not necessarily to older teens or adults.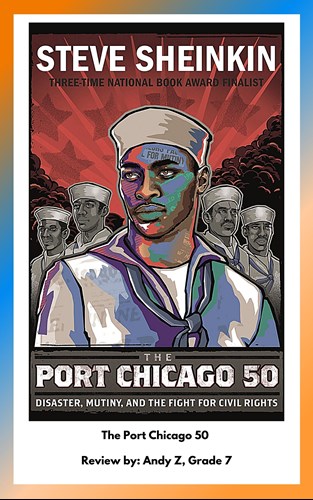 The book Port Chicago 50 is an impressive story about discrimination and injustice in the United States Navy. During World War II, many young African Americans enlisted in the U.S. Armed Forces. Some of them were recruited to Port Chicago, an United States Navy base located in San Francisco Bay. It was a very busy port where sailors loaded bombs and ammunition for troops fighting in the Pacific. The port was segregated like many others. The people who were giving commands and orders were white and all the people who were loading were black. On July 17, 1944, a catastrophic explosion in Port Chicago killed 320 men and injured hundreds more. Most of the killed and injured were black. The black sailors that survived were ordered to start loading ammunition at a different port. More than 200 men refused. They argued about the unsafe and unfair conditions, but many men went back to work after they were threatened to face the firing squad. Only 50 of the men refused to work even after they were threatened. All 50 went to court to find their verdicts. Will the verdict of the trial be "Not Guilty" for the 50 men? Read the book to find out.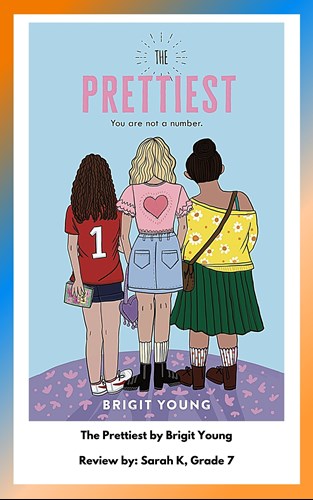 The Prettiest was a noteworthy book to read with inspirational messages on the struggles that girls face in general. It all starts when someone mysteriously posts the "50 prettiest girls of the school" list online. Aspiring poet Eve ranks first, Sophie "the popular girl" places second, and Nessa, Eve's best friend, isn't even on the list. Because of the list, the girls deal with unwanted attention, bullying, objectification, and more. After thinking it through, they decide to join forces in taking down the culprit. Overall, I enjoyed the three distinct character viewpoints, the unforeseen plot turns, and the overall empowering message. I would recommend this book to anyone who wants to read a short but meaningful book.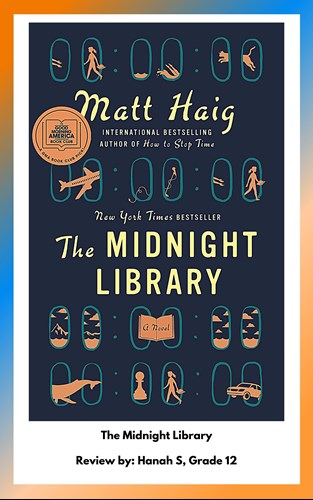 This is a deep and emotional story that covers a woman named Nora, who goes through an insanely large transformation regarding character growth. At first she sees no point in her staying in this world, growing thoughts towards the fact that the world was better off without her due to all the mistakes and hurt she believes she caused. On the day she decides to leave the world, she finds herself wedged between life and death, at the Midnight Library. There she comes across her old elementary school librarian, who wasn't exactly the same as she knew her. In this library, there were countless books of every shade of green, and with each book were the possible lives if she had chosen a different pathway towards life. In this book I saw such a drastic difference in character development, it quite literally made me tear up because of the amazing emotional journey it took me with this character....I highly recommend this book to anyone struggling with their mental health as well as anyone looking to get out of a reading rut.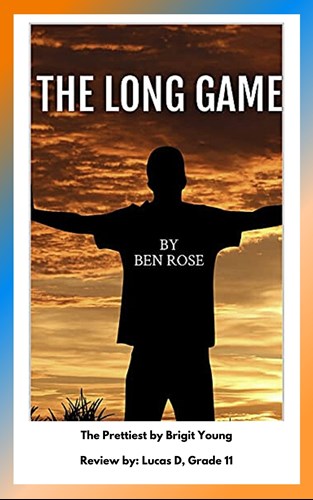 The Long Game is a truly inspired young adult novel, and the follow up to Everybody But Us.
This is the story of Vincenzo Cassiel Michelangelo Il-Cazzo, a young man raised up to be a grifter and a hustler. Vinnie never feels entirely at ease with the con games his family runs, but he finds that he is gifted in the art of the short-con.
When Vinnie meets Steph Baker, it is love at first sight...or anyway lust. Steph, however, is being abused by her father. When Steph, hef mother, and her baby sister have to cut and run to escape abuse, Vinnie and his family help them. 
Having lost his first true love, Vinnie soon discovers facts about his parents that are deeply troubling. Vinnie is soon after abandoned, and decides to find Steph once more. In the process he is forced to grow up and come to terms with who he is and who he wants to be 
This story is part romance, part action-adventure, and a must read for any teen who enjoys reality based fiction.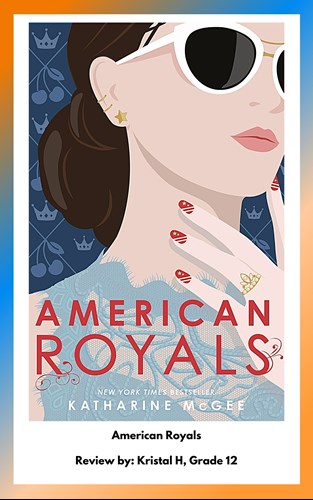 American Royals by Katharine McGee is presented as spin on history, a big "what if America had a Royal family?". This idea holds so much potential. Unfortunately, the book pans out to be nothing more than a teenage soap opera. The characters and their dilemmas were cliche and predictable. The whole book was one big exposition. When the climax is finally reached on the last page, that's it. The end. No resolution. The only thing the writer did well was coherently switching between character perspectives. I should've stopped reading on page 100 when I told everyone how bad the book was.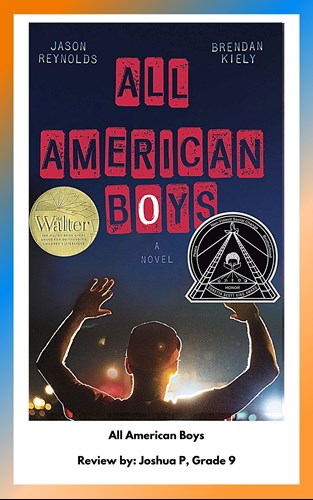 All American Boys is a heart-wrenching, powerful story of 2 American teenagers, Rashad who's black and Quinns who's white, who become entangled in a current, everyday issue; racial discriminations. They are your average, everyday teenagers living their normal life unknowing of each other even though they go to the same school. This is until a policeman comes in to brutally beat up Rashad for a crime he didn't commit. This policeman was Quinns older brother. So after this, both boys come under fire from the community they don't belong to and both are stuck facing the choice to either follow their conscience and make the right choice or get swept up in the ever flowing river of hate. I was in awe with how real the characters felt and what makes it even more riveting is the fact that the authors are also black and white, and this representation really backs up the purpose and power of this book. Overall, I would give this book a 5/5 other than the fact of some curse words and violence.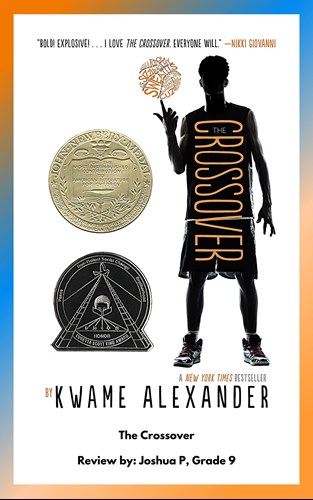 Nothing gets your blood pumping more than sinking that 3 pointer shot in a championship basketball game. And that's what Kwame Alexander's book, Crossover is all about. It focuses on two twin brothers, both who are very talented in Basketball and are very close to each other until a particular girl, "Miss Sweet Tea", comes between them and creates hostility. The twin JB, dates the girl while the other brother, Josh is left out and is depressed. The story takes place only in the mind and thinking view of Josh. Later on, their dad becomes sick during the basketball championships and it divides the brother even more. Heartbroken, the brothers have to find out how to reconnect and act as brothers again through basketball. Kwame portrays this story through a style of writing the consists of poems divided into chapters. The poems are beautifully written and keep you engaged ever single sentence, and if that's not enough, Kwame cleverly put the words to jump out at you with writing styles that resembles a piece of art. It isn't just words on a page, it has a certain rhythm as you read through it like a rap song but with a good plot and meaning behind it. Overall, I would give this book a 5/5 and I great for people who love to read or even people who don't.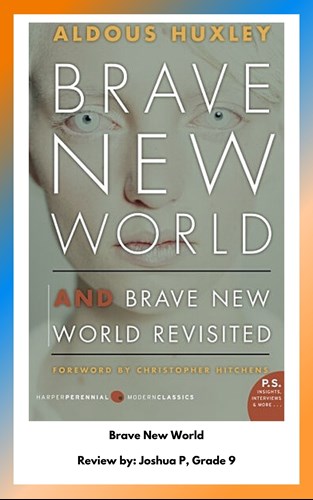 Imagine a world where from childhood, you're brainwashed by the government to lose your individuality and emotions. You're punished with tasers for books and flowers and taught to worship Henry Ford, the father of mass industrial manufacturing. You don't have parents because you're born in a laboratory and can have multiple clones of yourself for population. Your embryo can be chemically altered to make you perfect and at the top of society or be altered for you to be at the bottom of society to do the dirty work. This is what life is all about in Aldous Huxley's Brave New World. The story first begins in the perspective of Bernard Marx, an Alpha (top of the society), who travels to a "Savage Reservation) with his current love interest, Lenina. There they meet a Savage mother and son and bring them out to the "real world" and then the story revolves around the struggle of the son (around 20s) in this "post modern society" to hold on to human decency and keep on to his own individualities, all by himself. Overall, I would give this book a 4/5 because of the controversial topics it covers and some explicit content, but the meaning and philosophy behind this story truly makes it a classical book for all time to come.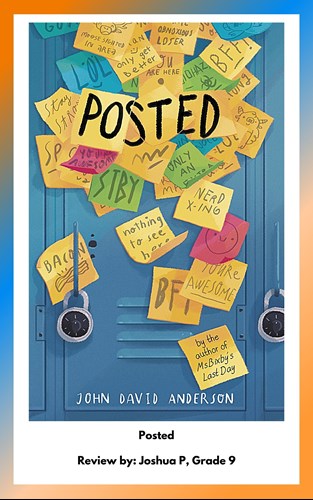 When a student posts a very inappropriate and offensive text about a teacher and gets caught red-handed, phones are banned throughout the whole middle school. Though they were banned beforehand, the rules intensified exponentially and students aren't even allowed to bring their phones to campus. And from this begins a new fad of using post-it as a way of gossip and a substitute for texting. It began as a friendly joke but as soon as the "popular kids" join in, it becomes an all out war. Following a tight knit group, the story revolves around them during post-it war and how a new girl joins their group. This new girl is way out of the ordinary and as soon as she joins the school, offensive comments follow around her like mosquitos. I rate this book a ⅘ because it talks about friendship issues like betrayal and miscommunication in a realistic plot making you feel every pang of jealousy and pain.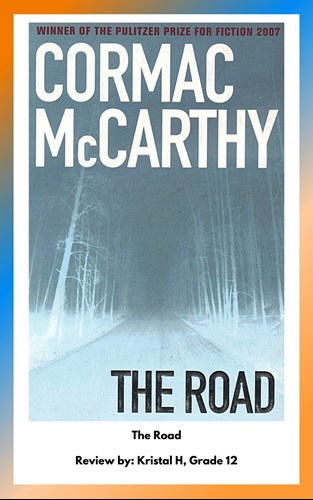 The Road by Cormac McCarthy is a post-apocalyptic book that follows the journey of a father and his son. This book is by far one of the best books I have read in a while. It is effortless in its ability to get you thinking about what it means and has an extremely strong message within the narrative. This book forces you to accept rather than question the vague context in order to understand it. This makes it a very unique book. Warning: this book is not for the squeamish. But, don't let that put you off.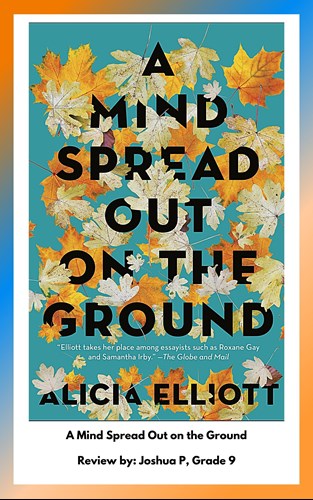 I have never read a book like "A Mind Spread Out on the Ground". There are so many reasons this book is a groundbreaking novel that speaks on such important topics using the author's own personal anecdotes mixed in with factual information. Alicia speaks on the negative impacts of colonialism on Native Americans and Canadians with essential questions that have complex answers while drawing on personal and intimate experiences and details of her own life. With engaging topics from head lice to Black holes, she forms unique analogies to portray the pain of the legacy of ongoing internalized, intergenerational colonialism. Though not suitable for younger audiences, I definitely recommend this book for ages 13+ because it does talk about the trauma of sexual assault and drugs but anyone at that age level would definitely learn and take something from this book.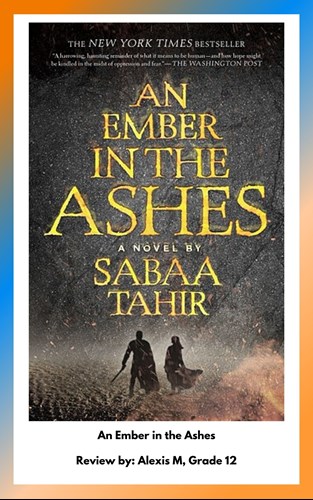 An Ember in the Ashes is a high fantasy book that follows Laia as she spies for the Resistance so they will break her brother out of prison, and Elias as he competes to win the Trials that will determine the next Emperor. This book is fantastic, one of the best books I've ever read. I love Laia and Elias, Laia is so strong, she doesn't give up no matter what happens to her as she endures slavery while spying for the Resistance. And Elias is so kind and caring despite being a trained murderer and I loved to see his attempts to preserve his friendship with his best friend, Helene, as they compete in the Trials. I loved seeing Laia and Elias' interactions as they try to ignore each other but can't, it's such a fascinating dynamic. The world building in this book is fantastic, you're never confused about what's going on because everything is so well explained. I would recommend this book to anyone who loves fantasy books with high stakes and a little bit of romance.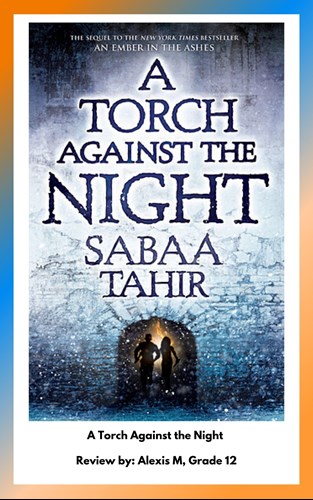 A Torch Against the Night is the sequel to An Ember in the Ashes, and like the first book, is incredible. This book follows Laia and Elias as they travel to Kauf, a prison, to free Laia's brother, and it follows Helene, now Blood Shrike, as she hunts down Elias and struggles with the fact that she'll have to kill him. This book takes everything good about the first one and makes it better. The characters are still fantastic, we really get insight into Helene and her struggle between doing her duty to the Empire and doing what she thinks is right and following her heart. I love the dynamic between Laia and Elias as they try to escape but realize they barely know each other. Overall I loved this book, it's one of my favorites.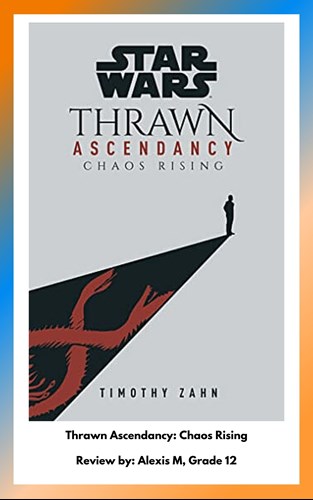 As the first book in the Thrawn Ascendancy series this book provides a wonderful background for Thrawn as a character.  With chapters alternating between the past and the present we get to see Thrawn rise to the point he is at in the present as well as seeing how he thinks, which is really interesting. I really enjoyed this book, more than I thought I was going to. I loved the reference to the book Thrawn: Alliances, I thought it was cool to see how the stories overlapped. I did have a little bit of trouble understanding what was going on with all the new planets and alien races being introduced but it didn't detract from the reading experience. I would say that anyone who likes Star Wars would like this book, however if you have never read a Star Wars book, this probably isn't a good starting point because of the complex nature of the book. I would also say that, if you were to read this, don't worry about understanding all that is going on, just get the main ideas and you'll be fine.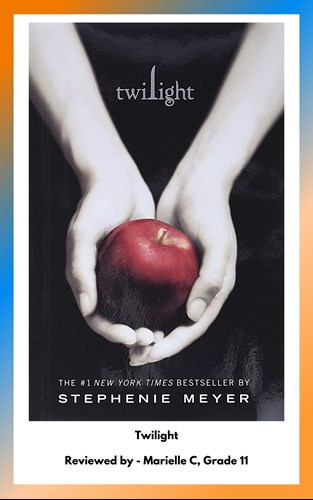 On October 5th, 2005, the first book out of six vampire romance novels, called Twilight
by Stephenie Meyers was published and completely revolutionized how the world views
vampires. Meyers has created a whole new fictional world that thousands of fans hold dear to
their heart. The story is from the point of view of Bella Swan, a shy seventeen-year-old girl from
Arizona, moving to Forks, Washington trying not to draw too much attention to herself.
The cover of the book has a plain black background with two pale hands holding a bright
red apple. The significance behind the book's cover is explained by Meyers as "the forbidden
fruit" from the Book of Genesis which is a symbol of Bella and Edward's forbidden bidden love,
And Myers continues to say another reason for the appearance of the book's cover was she
admired the phrase "the fruit of the knowledge of good and evil" and this is what Bella is left
within the end of the book. I truly agree and appreciate this sign of cleverness by Meyers
because, at the end of the book, Bella is cursed with the knowledge of deadly blood-sucking
beasts and along with the "evil" there is "good" which is the blessing of her undying relationship
with Edward. Therefore, the end of Bella and Edward's relationship was inevitable if Edward
kept this major secret about who he really was, from Bella; This secret demonstrates as a mental
block between Bella and Edward when Bella starts to ignore Edward when he won't answer her
questions about mysterious behavior.

The story begins with Bella Swan leaving Arizona where she lived with her mom, Reene
Swan, and her mom's boyfriend, Phil because Bella didn't feel like traveling with them for her
boyfriend's amateur baseball career. Awkwardness quickly sets in when she arrives at her dad's,
Charlie Swan, house in the rainy Forks, Washington. Bella mentions that she likes how Charlie
doesn't linger and gives her space, and that's what every teenager wants from their parents. Later
on in the day, she receives a bright red truck from an old friend of Charlie's which breaks the ice
between Charlie and Bella. During lunch, she sits with Angela, Eric, Mike, and Jessica, and is
introduced to the Cullens. The Cullens are a foster family adopted by Carlise and Esme Cullen,
four out of five siblings are dating each other. Bella marvels at their great looks and Edward
Cullen especially catches her eye, but she is warned by Jessica that they are very closed off. One
of my favorite parts of the book is when Bella first steps into Biology and sits in the only open
seat next to Edward. Edward's initial reaction is he is repulsed by Bella and he covers his mouth
and nose; Then he stares at Bella for the entire class period. Bella is ultimately confused and
offended by how Edward acted towards her, and she questions what she did to deserve that. This
ignites Bella questioning Edward when a van almost crashes into her from the slippery road but
is saved by Edward's quickness to get to her and leave a hand indent in the car. Eventually,
Edward confesses to being a vampire to Bella and tries to scare her away, but it had no effect on
her. Therefore, they become boyfriend and girlfriend since there are no more secrets to hide.
Throughout the book, Bella and Edward go through the basic new relationship milestones such
as first dates and meeting their parents, The plot thickens when a group of rogue vampires named
James, Victoria, and Laurent lead a trail of dead bodies to Forks. Ultimately, this leads to Bella
being hunted by James because of her delicious scent and threatens to kill Bella's mother if she
doesn't meet him in the old ballet student she grew up in. Once Bella arrives, James breaks
Bella's legs and bites her in the hand. In the end, she is saved by the Cullen family, killing James
and Edward, sucking the venom out of her system. She finishes her first school year at Forks
with a romantic dance under the night sky with Edward at prom.

I absolutely encourage others to start reading this series because it keeps the reader glued
into the story from the perfect balance of love and compassion to the dangerous thrills. However,
I would mainly suggest that ages from 12 years old and up read and appreciate this book because
of the vocabulary and supernatural entities. In addition, there is a movie based on the original
books and this is how the compelling story catches a larger audience. Whether one loves the
Twilight books or the movies, they both capture the essence of a true love story.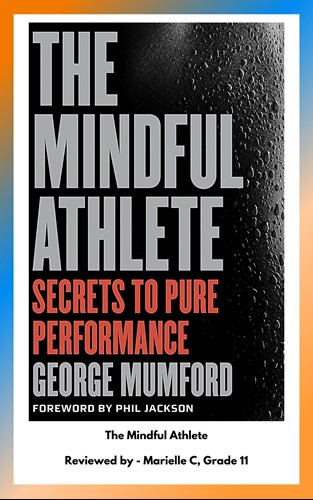 George Mumford opens up by taking us through his own experiences in life. A very good
basketball player who played with as well as roomed with the Hall-of-Famer, Julius Erving.
Mumford describes how injuries forced him out of the game he loved and how this was his
transition into a crippling addiction with drugs. Dealing with physical and mental pain he turned
to drugs as his easy release, his escape from the world. It was after he had lost everything before
he finally decided to act. He decided to attend AA meetings and completed the 12 steps of
rehabilitation where he was able to free himself from the hold his addiction had on him. George
not only turned his life around but chose to spread his knowledge with the rest of the world
becoming a psychology coach for many athletes, young or old, amateur or pro. Inside The


Mindful Athlete, He takes us through the specific techniques that helped him as well as the thing
he has preached to once-in-a-lifetime athletes like Michael Jordan and Kobe Bryant.
The title for this story gives away a lot. The word mindful is defined by Oxford
Languages as "focusing one's awareness on the present moment, especially as part of a
therapeutic or meditative technique." This idea of returning to your breath whenever you need to
ground yourself is a main theme throughout the book. The breath is described as the eye of a
hurricane or the space between stimulus and response, each metaphor helping you imagine the
calmness your breath can bring as well as returning you into the present moment among all the
chaos of the world. For the word following, athlete, I think this is where the title is slightly
misleading. The author teaches many helpful life lessons for the everyday person while subtly
relating them back to sports. He is able to do this so effortlessly by saying things like
"Everything is connected" or "...there is no separating who you are on the court...from who you
are in the world at large," each quote reminding you that you can utilize these tools with daily
challenges or the obstacles faced on the court.

As a person who is not the most avid reader, this book had me hooked. On every page, I
felt like I was learning something new and finding more ways to be at peace with myself and the
world. The way the author slowly builds each idea on top of each other proves his point that
"everything is connected." Another thing that proved useful was the mindful practices listed in
between each chapter. It was a chance for you to practice the main idea of each chapter and the
main 5 themes of the book, mindfulness, concentration, insight, right effort, and trust. I would
recommend this book to almost anyone who is looking to take a deep dive into the world of
self-knowledge and inner peace, especially athletes.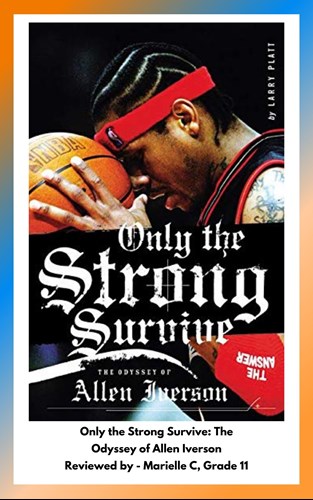 Larry Platt, the author of this book, is a Philadelphia native and started his writing career
editing the Philadelphia Magazine. He authored multiple books about the world of sports,
including this near-perfect biography of Allen Iverson. Iverson is depicted as an underdog who
defied all the odds against him and achieved his wildest dreams of becoming a pro athlete. This
description was spot on. Platt's writing evokes a sense of authenticity, he includes many details
that are usually skimmed over when looking back at the life of Iverson, things such as him
almost missing college, or the events he battles with off the court such as his loyalty to his
friends. He uses descriptive terms to make paragraphs come to life, creating a concrete image in
your head as if you were there. An example of this visual imagery occurs when Platt is depicting
the sights and sounds of a bowling alley brawl that Iverson was involved in, writing "There were
people screaming and falling, chairs being hurled, and sounds of sobs, and curses echoing
through the air."

Allen Iverson is one of the most polarizing people in the basketball community and the
world of sports as a whole. This biography shines light on the events Allen has encountered on
his journey through high school, college, and the NBA with the theme of the whole book
centered around one word, resilient. Iverson is often described as resilient because of his
willingness to ignore pain and play the game he loved but the word is more commonly used in
his journey off the court.

Growing up was troublesome for Iverson ; he lived with 13 people in a run-down 2
bedroom house on the brink of collapse, finding a way to school while maintaining his required
life obligations such as finding food to eat or getting enough sleep. When Iverson was 17, he was
out for the night with his friends at their local bowling alley. A conflict arose and a brawl ensued,
Iverson was right in the middle of the mayhem. The football/basketball star was arrested and
went from one of the most sought-after recruits in the country to begging his way into
Georgetown by the good graces of Coach John Thompson. After one year in college, and against
the opinion of his coaches, Allen went pro and never looked back.

Controversy continued to follow Allen after college. Iverson always found himself in the
news for his illustrious pro career that lasted 15 years from 1996-2011. He slowly worked his
way into NBA stardom after crossing over Michael Jordan when Iverson was only a rookie,
winning NBA MVP and attending the NBA Finals both in 2001. Iverson also found himself in
the news for the wrong reasons, whether it was his full body layered in tattoos, the cornrows that
covered his head, skipping practice, his rap career that was taking place off the court, or filing for
bankruptcy in 2012. Fans, media, and coaches loved Iverson because of what he embodied, the
underdog mentality, but he was constantly surrounded by controversy, receiving a lot of hate
from coaches and media for some of the things he did.

The title really captures what this book is all about. Resilience. Phrases like only the
strong survive point a finger directly at that central word. Or the use of the word odyssey instead
of journey, showing how unimaginably hard things were for Iverson and everything he
overcame. I would recommend this book to a small group of people who either love basketball,
Allen Iverson, or one-of-a-kind rags to riches story. Not everyone will enjoy this book because it
is pretty slow and can be viewed as boring, but when you are interested in this topic you can find
yourself eager to read the next page, on edge to see what other unpredictable things happen to
Iverson.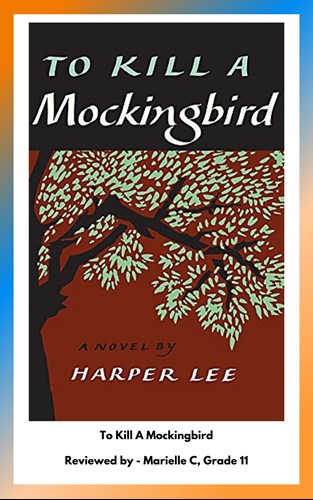 Published in 1960 this book was based on the childhood and hometown of author Harper
Lee. She grew up in a small Alabama town called Monroeville and some characters were based
on certain people having influence in her life. Harper Lee did a tremendous job incorporating the
real-life issue of racism and rape into a story about children and their growth as people. We
experience all these emotions with the characters as an innocent, crippled African-American
male is put on trial for a rape accusation that has no truth at all. Although Lee did an amazing job
blending those two ideas, this story lacked suspense. Until the final events, I did not find myself
dying to read the next page or on the edge of a cliff at the end of each chapter. The book took too
long to reach that peak of excitement, and occasionally I found myself aimlessly reading, waiting
for something interesting to happen and it never did.

This story opens up with Scout, the main character, and the character whose perspective
the story is told from, reminiscing about the events that had happened during her childhood and
even foreshadowing many events to come throughout the story. As the story progresses, we see
the common theme of Boo Radly, a man who has never been seen, but one day Dill, a boy from
Meridian who visits during the summer, Jem, Scout's brother, and Scout herself, find an
obsession in the mysteries of this man and set their mind to laying their eyes on Boo Radly
before they die. Later on, the story starts to contrast the ideas of childhood innocence with the
controversial ideas of racial inequality and rape. Atticus, the father of Scout and Jem is appointed
the defense lawyer in what is defined by people in the town as an "impossible case." Atticus does
the best he can and even provides solid proof of the innocence of Tom, his client but in the end,
Tom is found guilty because of his race, and immediately Scout breaks into tears. This provides a
new perspective for most readers on these specific issues, describing the issues in the most
simplistic ways as if you were a child trying to understand the complex and cruel world like
Scout.

Aside from blending those few tough ideas of racism, rape, and childhood together, this book did
nothing right in my mind. I would not recommend this story to anyone unless you would like to
read it for the sake of reading it because at some point everyone has been forced to read this
book. The whole story is like a documentary of children who play games and do other childish
things while occasionally incorporating the main ideas of a man who never leaves his house and
a rare life lesson based on the most random things. Early on, a whole chapter is dedicated to
describing the life of the Cunninghams, a family of farmers that lives in the middle of nowhere,
are very poor and pay people back in favors instead of money. In certain opinions this section
might be viewed as character development, I see it as a waste of time. The Cunninghams have
little to no significance throughout the book and are rarely ever mentioned. What is the point of
adding this excessive description for no reason? This book is boring and drones on and on, but if
you do make it to the end and don't zone off, you might notice some small life lessons that we
can practice in our lives aside from the main lesson of just doing the right thing.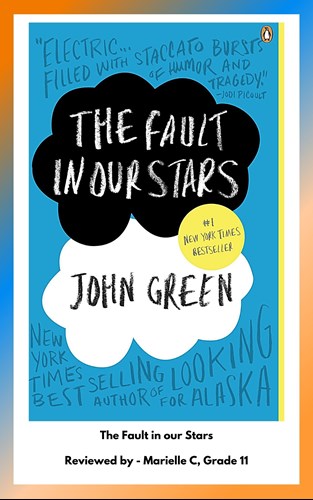 The Fault in Our Stars by John Green is a book about a girl named Hazel Grace Lancaster
and her progressive love story with Augustus Waters. Hazel is 16 and has been battling cancer
for a few years of her life. She attends a support group at her church where she meets Augustus
Waters. The author makes it very obvious that he is the love interest in the story by describing his
physical features when he is first introduced. They meet through their mutual friend in the
support group Isaac who invited Augustus because he wanted him to come to the meeting that
day. Augustus used to have cancer as well which gives him and Hazel something to talk about
when they first meet. After the support group, Gus invites Hazel back to his place to watch a
movie where they talk about their cancer stories and common interests. One of which is reading
where Hazel recommends him to read An Imperial Affliction by Peter Van Houten which is a
book about a girl with cancer. Both the book and the author are made-up characters for the story.
Hazel is hesitant to suggest him the book out of fear that he would potentially judge her or not
share as much of an appreciation for the book as she does. He recommends a war book that is
based on a video game he likes and they tell each other that the next time they talk will be when
they finish their books. After a few days, he texts her asking if there are pages missing from his
book because there is no ending to the story. One of the big things Hazel likes most about the
book is actually that there is no end. After reading the book Gus emails Peter to ask him about
the ending of the book which he replies saying that he can't say anything out of possibility that
he would post about it somewhere and comments that he would be able to tell him if there was a
chance he could fly out to Amsterdam. A few weeks later they go on a date and Gus asks Hazel
what she used her cancer wish on and she says going to Disneyland to which he makes fun of her
and says that he hasn't used his wish yet and wanted to use it ongoing to Amsterdam with her and
meeting Peter Van Houten. As they're planning their trip Hazel finds out that her cancer has
gotten worse and they'll have to cancel the whole thing. When Hazel checks her email a little
while after finding out she won't be able to go she sees that Peter has emailed her talking about
his excitement to see her so she calls for her mom confused and she tells her that they have
continued planning the trip without her knowing and were going to surprise her. The only people
going on the trip are Hazel, her mom, and Gus, and not shortly after they are in Amsterdam. This
part of the book is written as the moment Hazel falls in love with Gus after he had confessed it to
her in the past and a moment where she is okay with establishing him and her boyfriend which
she had been too nervous about leading up to that point. The next day in Amsterdam they meet
Peter to which they find out his assistant had been writing all the letters back and he is an awful
person to both Hazel and Gus and doesn't tell them about the end of the story. On their next and
last day in Amsterdam Hazel, Gus, and Hazel's mom are talking at a cafe when Hazel's mom
decides to let them talk and leaves. Building up to this part of the book there is some
foreshadowing about Gus not doing well and him being dizzy and weak on their trip. Gus tells
her that his cancer has come back and has spread all throughout his body and that going on the
trip was a really bad decision but he wanted to do it anyway. Once they get home he gets very
sick very quickly and passes. Overall I really enjoyed this book. The foreshadowing throughout
the book for the end made reading the book kind of tense, and some parts of the end of the book
did make me cry. I would recommend this book to anyone who is looking for a funny book with
romance.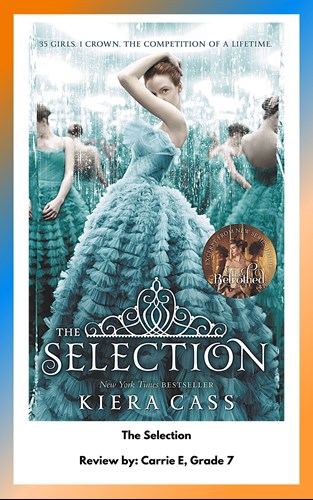 The Selection is the first book in a dystopian, romance series by Kiera Cass. In this world people have been divided into different levels of society with "ones" being the best and "eights" being the worst. Each level or "caste" performs a different profession. "Ones" are royalty, "twos" are celebrities, "threes" are educated professionals, "fours" are farmers and factory workers, "fives" are artists(music included), "sixes" are inside helpers, "sevens" are outdoor helpers and "eights" are the sick and homeless. The protagonist in this story is America Singer, a five, who is chosen to be one of the selected. The Selection is where thirty five girls go to the palace and are in a competition to win the prince's heart and become the next queen of Illèa. But America doesn't want to be selected because she is already in a forbidden love with her neighbor Aspen. Aspen is a six so it would be looked down upon if America married down to him because she is a five and he is a six. As America moves to the palace, she discovers that the prince, Maxon, may not be as bad as she thought and that she may have a shot at becoming the next princess of Illèa.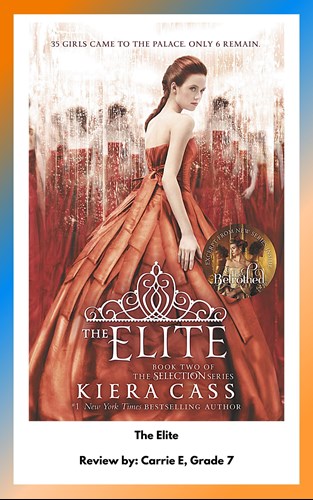 The Elite by Keira Cass is the second book in The Selection series. There are now six girls left in the palace and the competition for Maxon's heart is bigger than ever. America is now fully in love with Maxon and knows that he loves her back. But America's first love Aspen is now in the palace as a guard and he still has feelings for America and assumes she still has feelings for him. She doesn't "love" Aspen but she cares about him too much to ever hurt him. On top of that, America's best friend Marlee (another of the selected) is having an affair with a different guard and gets caught doing so. Having an affair with another person while in the Selection is one of the only ways for you to get brutally punished. Marlee is caned which is, believe it or not, is Maxon's way of her showing mercy. This incident makes America mad at Maxon and scared to be with Aspen leaving her in a difficult situation. Overall The Elite by Keira Cass is just as heart wrenching as the first book and it will leave you holding your breath with every page turn.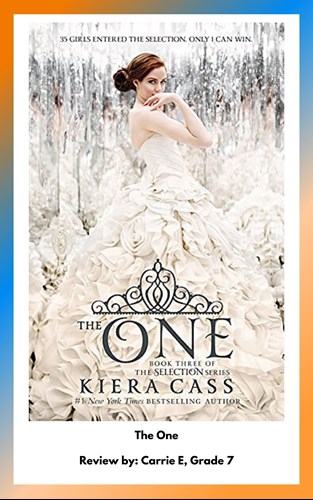 The One by Keira Cass is the third book in The Selection series and is the most suspenseful yet! There are four girls left in the Selection process and the rebels are constantly attacking. In the beginning of the book the Northern rebels come to plead their case and ask to form an alliance with the royal family. As this goes on Aspen is still convinced that America loves him so he is ready to have her back. America also learns things about the other members of the selected remaining -  like Celeste who has been her bully this entire time, is only doing that because she feels like she has to to make a living. America is also in a battle with her emotions. She asked Maxon to let her figure them out but time is running out and once he gets down to three girls, she has to make a decision. America also gets caught with Aspen and basically loses her chance with Maxon until rebels attack. The One will make you want to scream, sigh and smile at all the love and romance that The One has to offer.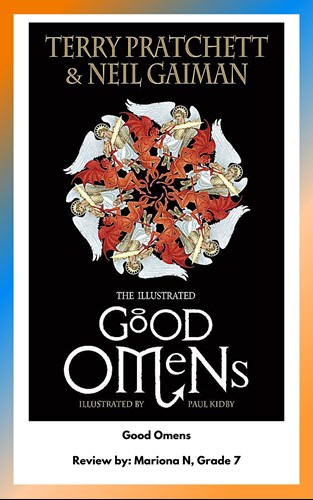 This book tells several interwoven stories, over both one week and approximately 6,000 years. An angel and a demon have an 'arrangement' and a goal to prevent the apocalypse, because they like Earth so much. They spent eleven years watching over the child, to make sure he stayed balanced. The only problem? It was the wrong kid! Throw in the descendant of a prophet, a young witch finder, and an unenthusiastic antichrist, you have one wild adventure! I particularly enjoy the funny descriptions, sassy footnotes, and chaotic storytelling. Who knew the end of the world could be so funny?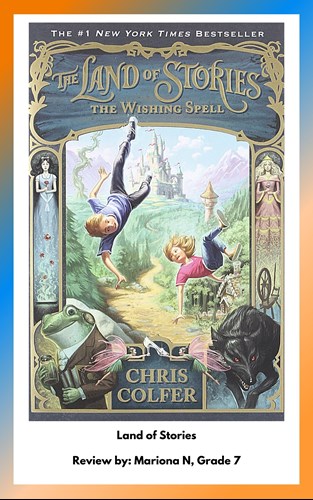 The book is about twins, Alex and Conner. Through a book of stories belonging to their grandmother, they find themselves in a fairytale world with all the characters they've grown up reading about. They meet a man who was turned into a frog, and he gives them a journal that talks about the Wishing Spell. With eight special items, the caster of the spell can have any wish come true. Honestly, I couldn't read too far after this part. I tried to get into it, but I found the characters uncompelling and the story progressed too slowly to be enjoyable.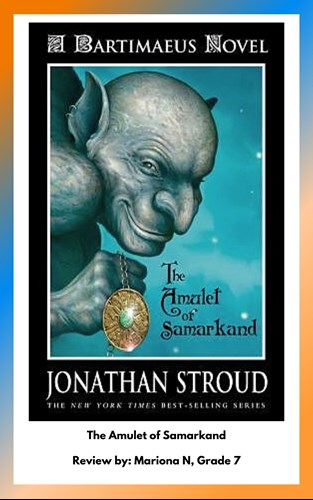 Nathaniel is a 12-year-old magician in training in an alternate London full of magic, dangerous spirits, and powerful artifacts. Bartimaeus is an arrogant djinni summoned by Nathaniel to get revenge against Simon Lovelace, a ruthless adult magician who had previously humiliated Nathaniel. To do so, he steals the powerful amulet of Samarkand and frames Nathaniel's master, Arthur Underwood. Events quickly spiral out of control, and it's up to Bartimaeus to get the job done and survive. Full of sarcastic humor, cynical narration, and a spark of childish optimism and innocence that somehow survives to the end. Overall, an amazing book.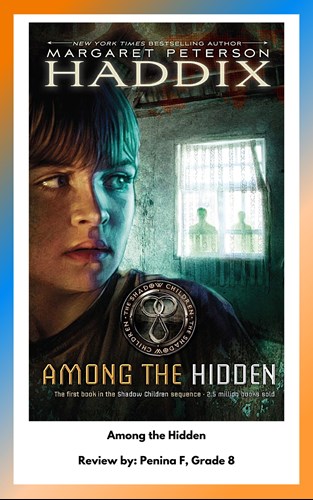 First things first, Haddix is by far my favorite author of all time, always comes up with the most interesting and engaging stories. This book is the first from my favorite series from her. The Shadow Children series, is about a world or time where due to the immense shortage of food  versus the huge mass of people, having a third child is illegal.
This book starts off in the perspective of a third child in hiding, living with his family , never to leave. He helps around the house and with a new neighborhood taking place of the forest around the family farm, he gets quite curious.
I'm not gonna spoil much, but I have to say, the book is really good. The entire series switches between perspectives of different people and their take on the situation. Each book more gripping than the next.
If you like dangerous adventures with realistic struggles, characters that are always on the edge of peril, grief and joy displayed beautifully throughout the series, or just a good read, then I highly recommend starting the "Shadow Children" Series. And reading this book to start.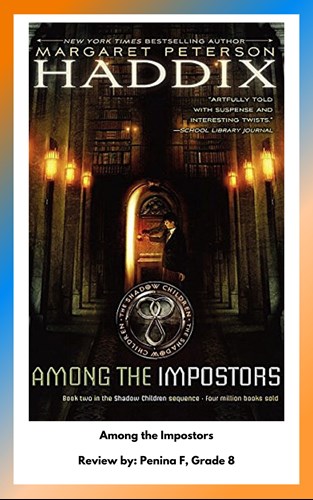 This book is a good read.
I love all books that are part of the Shadow Children Series, and this is one of them. I liked all the action and the content that was given throughout the book, really kept me reading late. It's quite amazing, having all of these different pictures painted in my mind. You can really feel the suspense in something that's happening. Or at least I do. 
Spoilers v
The entire book is about what happens when Luke -Main Character from book one- makes contact with that other third - short for third child- Jen. Jen, a rebel third, works together with Luke to make third children legal again, and take down their corrupted government. When all fails, and trouble comes, Luke has to change his Identity!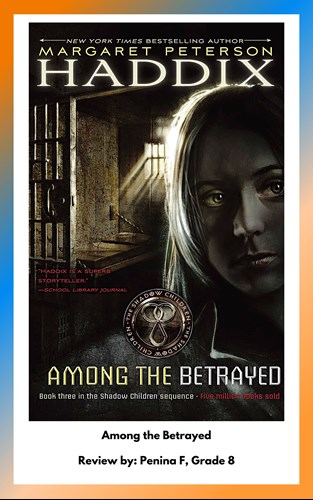 This book is a part of the Shadow Children Series.
Book Three here changes perspective to a different person named Nina Idi. In the previous novel Nina ( a shadow child) seems to be attending a school for girls, of which she plans to seek and help other third children hiding under a fake name. She falls in a sort of love with a guy across the schools, and entrusts her secret to him. Soon enough, the boy betrays her and turns her in to the population  police; Claiming to be a spy.
Here in book Three, Nina is arrested, and put into a cell. An officer, who Nina named "The Hating Man", gives her an offer. He offers that, if Nina can convince three other shadow children to turn themselves in, her life could be spared, or she can simply be executed right on the spot. 
Indecisive, she is brought to meet three shadow children named, Alia, Percy, and Matthias who are between six and ten years old. These children were found homeless on the streets, practically destined to die of neglect.
Since Nina knows this, she tries to keep an emotional distance while keeping her humanity by helping them whenever she can.
All the while she still recovers from her betrayal. Eventually, Nina and the other children escape. They stake out a spot near the school, so that Nina can help any other remaining third children in the school living under a fake name.
This is a highly suspenseful novel, where a population crisis has dismantled many of the normal morals and replaced them with dehumanizing laws.
This was fun to read, you can never get tired of re-reading.
So I highly recommend that you read any of Haddix's books.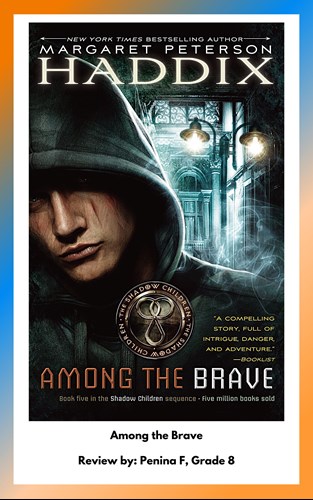 And this review… is long.
Like, Super long.
To catch you up about last book, after the drama at Mr. Hendricks school, Luke is transferred to live over at the Grants Manor. After a tragic accident of which Mr and Mrs Grant die, Luke sends his friends to The Talbots house to seek help.
During that time, he takes Smits, Lee's younger brother, to his family so that they may take care of him. He gives Smits a new name and a new chance at life before he leaves next morning.
In this book, the perspective changes over to one of Luke's friends named Trey.
Trey is Luke's friend from Hendricks school, he is a very nervous kid, and has never been outside before since the beginning of the year.
Recently Trey had posed as a servant, and saved Luke from near death.
Now, Trey and his friends, along with their chauffeur, are driving to Mr. Talbots.
When they make it there, Trey is chosen to knock on the door and is shoved out of the car.
After internally fighting his fears, he rings the doorbell.
Mr.Talbot doesn't seem to recognize Trey as he tells him to leave and slams the door.
Soon after Mr Talbot is taken away in a Population police car, in handcuffs.
Leaving Trey confused, he turns to see his friends drive away without him.
Instinctively he hides behind a flower pot, just in time to see population police swarm the house.
The officers search the house as he hides,
He is found by an agent of Mr Talbots, under cover as a population police officer.
Translating the word "Liber" he is saved from being exposed. A while after all the officers leave, Trey gets up from his spot.
It is the evening now, the Grants died, Lee left, his friends left, he almost got caught by the PPO, and now he was all alone confused and conflicted.
He searches the house so that he may have shelter, that is when he meets Mrs.Talbot.
Mrs.Talbot and Trey start talking together, getting each on track with what has happened.
Mrs. Talbot turns on the TV to find that The government has been overthrown under new management, under the management of the head of the Population Police.
Mrs Talbot drives away, deciding it is not safe to stay in her house any longer.
Trey, left even more alone, and afraid hides in a cabinet and eats what's left in the refrigerator. Exploring little by little of the house.
He stays that way for a few days.
That's when the power cuts out,
Trey sees a little boy outside, laughing and playing in the dark looking for fireflies near by a farm some ways away from the house.
He sneaks over under the cover of trees, as he gets closer he can hear the boy.
He swears it's Smits, but he can't see his face. So Trey tackles the boy, asking if he is Smits. The boy yells no, and that he is Peter. Trey is absolutely sure that it's Smits now, but before he could think he gets punched in the face and is knocked over to the ground. Smits stops the guy that punched Trey, and they all talk.
After a bunch of awkward introductions, they finally get each other caught up with each other's situations.
Mark (that punched Trey), Luke's older brother, is uncomfortable to hear that his brother may be in trouble, so Mark and Trey decide to secretly leave for Luke the next morning.
Next morning, they take Mark's Dad's truck, along with some food from The Talbots house.
They make it to the grants under the cover of darkness, with the truck parked a while back.
They find out that the Grants Manor had been taken over by the population police; The New Headquarters.
They also find that the new government is promising food to families if one of their family members join the population police.
After a risky attempt to get inside, Mark is shocked by a barb wire fence and is near unconscious. The population police find him and take him away for interrogation.
Trey feeling cornered and helpless decides to join the population police, go under cover, save mark, then save the rest of his friends.
He signs up under the name Travis. Finds a vent in the bathroom and climbs through.
After an eternity of crawling and twisting and listening and falling, he finds the basement where mark is being kept.
Trey and mark work together to find a way out. With hopeless tugging and looking and planning. Trey finds a solution, a word that helped him once before. Mark yells "Liber", and eventually a guard comes down and helps them out.
Although he only would have helped with an offer, an exchange to help free Treys friends if he freed his.
Agreed, Trey takes Mark and the truck on a perilous journey through hungry mobs, patrolling police, literally anything that could get him in trouble. A mob flips over the truck and mark is freed from his cage, but his leg is broken too. Trey fixes the situation then drives to another location to pick up his friend and our mystery colleague's mystery prisoner.
After lots of stress, pretending, and worry, Trey successfully rescues his friends, along with a new colleague that helped him. Trey also finds out the Mr Talbot is the mystery prisoner and the founder of a secret organization to overthrow the population police.
They drive to Mr Hendricks.
Trey and this new colleague(forgot his name), try to catch everyone up with the situation.
Mrs Talbot is there too (she is a nurse).
Mr Hendricks and Mrs Talbot are shocked and thankful for Trey and those who helped him.
Trey finally gets some rest, and wakes up to check one everyone.
Luke, Nina, Joel, John, Mark, Mr Hendricks, and "The new colleague" are all in the living room, eating small snacks and listening to Mark tell his story about their embarking adventure. And Mrs Talbot was tending to Mr Talbot in the room.
To end the book, Trey gathers his friends and the adults, and he persuades them, that he will go under cover in the population police and his friends agreed to join him. This time, Trey felt he could take on anything.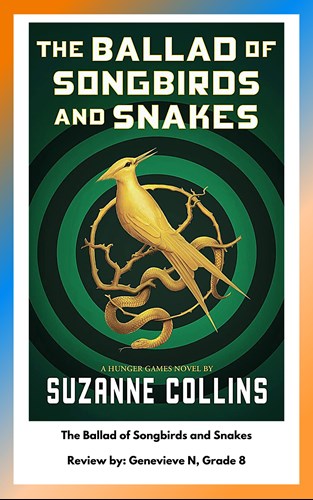 The Ballad Of Songbirds and Snakes was a great book to read. It is a Hunger Games novel that takes place before the original story begins and follows President Snow's  life when he was eighteen. He is selected to be a mentor in the tenth annual Hunger Games for the district 12 girls. If he is able to successfully mentor the girl and have her win the Hunger Games then his future is bright but, if he fails then his future will be horrible. In the end the book will explain how the Hunger Games were created and it reveals some things that I didn't expect. A downside is that the book has a slow pace but it is worth it in the end.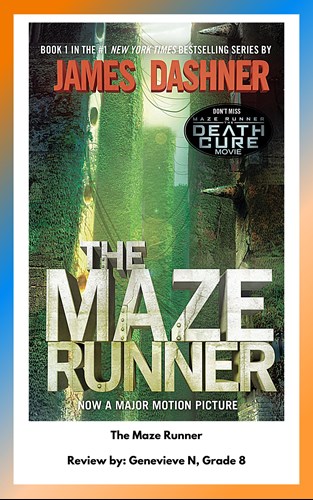 The Maze Runner was a great dystopian novel I read. It follows Thomas as he enters the maze
with a bunch of boys around his age already in it. Then a couple of days later a girl shows up.
This is unusual for two reasons that are explained in the book. When the maze runner doors
don't close everyone is in danger. So Thomas and some other boys, and the girl, decide to try
and escape. Fortunately, they escaped. But then they discover something that is shocking. Then
they meet someone who rescues them. In the end they think they are safe but it is only the
beginning of the group's adventure. Overall this was a good book and I would definitely
recommend this to someone who enjoys reading dystopian novels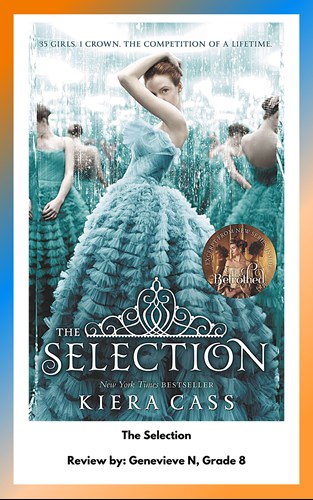 The Selection is set in the far far future and follows America Singer. She enters the selection.
The Selection is a competition that starts out with thirty-five girls. They all compete against each
other to marry the prince and become the princess. America only joined because her mom
wanted her to and after a close friend tells her she should join the selection she does. Once she
gets to the palace she becomes friends with a few people and makes a few enemies.
Throughout the competition girls are slowly eliminated. By the end of the book America is one of
the remaining girls and is considered an elite.
This graphic novel retells the story of Homer's infamous poem, The Odyssey. The illustrated pages of the book visually show the story of Odysseus, the Greek king of Ithaca, and his strenuous journey to return home after the Trojan War. After offending the sea god Poseidon, Odysseus is cursed with a shipwreck, causing his luck to spiral down afterward. For ten years, he is challenged with conflicts such as supernatural creatures, punishments by gods, captivating islands, and other hardships. On the other hand, while he embarks on his odyssey, his wife Penelope and his son Telemachus have to resist the suitors trying to take Odysseus' place as king in Ithaca. The beautiful watercolor illustrations surely helped give me a clear visual image as I read along with the simple narration. Although I cannot compare this retelling to the original as I have not read the original, I believe this graphic novel gave me a nice impression of the legendary masterpiece.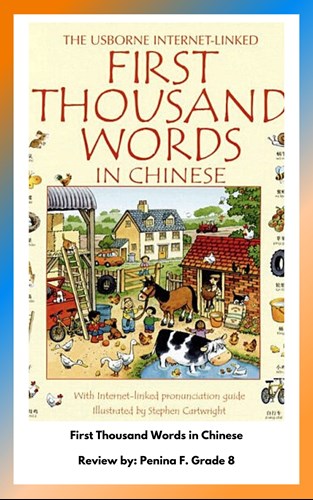 This book is super helpful in learning Chinese.
In the book there are illustrations of daily life, with few items labeled in each picture. For example, there is a bee somewhere in the picture, and it is labeled "mì fēng" with the Chinese writing on top. I found this book very enjoyable, by looking at the beautiful and creative illustrations and the labels for your everyday objects. The only thing about it that I have trouble with is the pronunciations.
Every language has different ways of saying things, and English can only example so much, so it's a bit tricky on that end. Other than that, for anyone open to learning Chinese, I highly recommend this book; It's informative, it's fun, and it's fit for all ages to understand!
That closes up this review, Thank you for reading.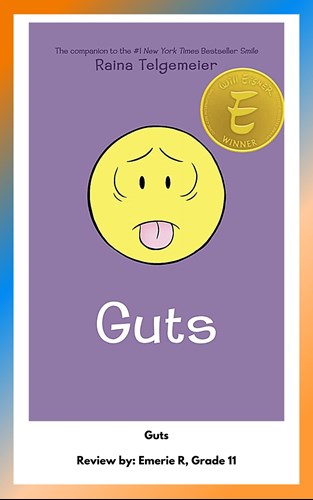 In the book "Guts", Raina Telgemeier explains her story of Childhood Anxiety. At first, the storyline is a bit unclear. It's just Raina having a Stomachache, Right? Over the span of the story, that Stomachache becomes more understandable to the readers. This stomachache, over the span of the book, that stomachache turns into something deeper; The fear of becoming sick, and the fear of being bullied by others for it. "Guts" portrays the harsh teasing that can take place in elementary schools accurately depicting the feelings of confusion, and self-demise, a child feels when teasing takes place in their lives.
"Ghosts" by Raina Telgemeier is a remarkable story. It shows fear, sickness, and cultural beliefs in a realistic way. All of Raina's stories are relatable, high expectation setting, childhood stories for kids to feel they have someone they could relate to, but what makes "Ghosts" stand out is its representation and intake of Mexican Culture. "Ghosts" welly pictures and teaches about The day of the Dead, why it takes place, how it is celebrated, and the joy it brings on the wonderful day. It also teaches kids how to overcome their fears, as Kat does with her fear of Ghosts.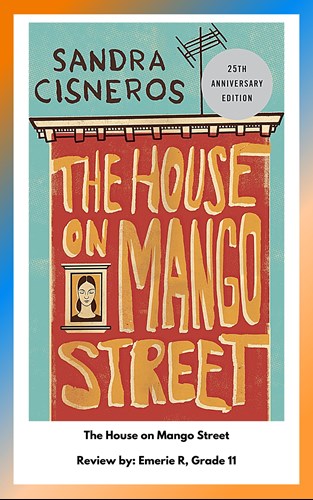 I read this book in English Class, believing I wouldn't like it. To my surprise, the book was interestingly complex. The chapters explained so many things in a few words, but they had the correct language to explain their points. Whether it be a relative passing on, judgment from others, or expressing childhood insecurities. "The House on Mango Street" addresses so many problems and topics that, every person can relate to at least one chapter of the book. The characters are well built upon in the book, as Sandra Cisneros well explains the character development time over the 44 vignettes.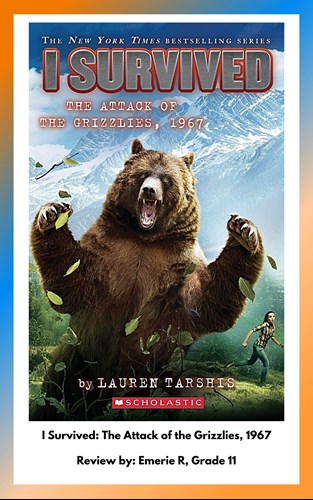 At first, I thought I wouldn't enjoy reading this book. To all of the Other "I Survived" books, it didn't seem appealing, but, when I picked up "The Attack of the Grizzlies", and read the first chapter, I was awestruck. How Lauren teleports you into this crazy bear attack, faced with the beast, is the worst fear for individuals living in Alaska, making it the scariest book in the series. The book is so real and genuine, putting the reader in a place where they are in the story themselves, fighting off a huge Grizzly at the age of 11.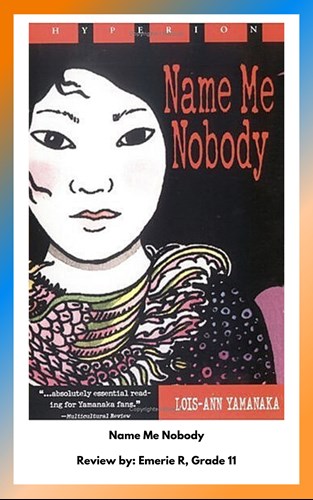 The Book "Name Me Nobody" is practically a teen award winner, or at least, it should be. The book draws out a good story of Teenage Self Acceptance, Struggling with friendships, and being open to the new. It is about a girl named Emi-Lou, and the problems she faces in her life, like boy drama, getting into fights with her best friend, and how Emi-Lou doesn't know her parents. The events taking place in "Name Me Nobody" are so realistic, they can be terrifying. I wouldn't recommend this for a younger audience, because the book touches on some dark topics.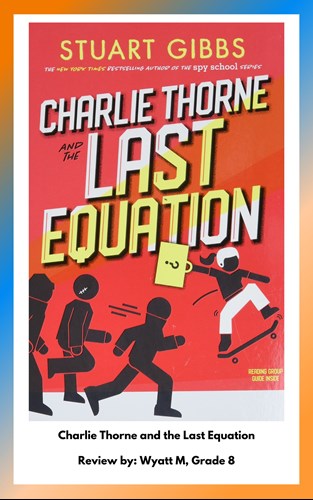 The book starts with a historical time in Albert Einstein's life right before he passes away he leaves a clue about one of the most powerful things ever. How to find the Pandora's equation and in present day Charlie Thorne, one of the smartest 12 year olds around, must help the CIA to find out Pandora's Equation before an evil group figures it out and tries to stop the Earth. Can she do it? In my opinion this book is filled with action and adventure. I found it to be a page turner. My Honest Rating would be a 4.5/5!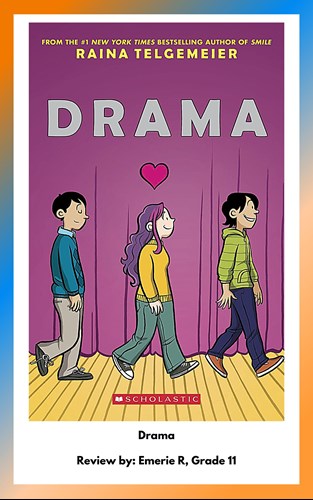 In the book "Drama", it well explains the way drama affects a teenager's mind. So much is dived into in this comic book: sexuality, boy confusion, pressure from school, and much more. Most teens and young students can understand at least one of these subjects. We focus on our main character, Cathy, and her love for theatre. Cathy shows us the behind-the-scenes picture of the high school showstopper and the hard work put into it. The book takes the reader on a compelling theatre journey of the teenage experience, showing how fun and annoying it can be all at once.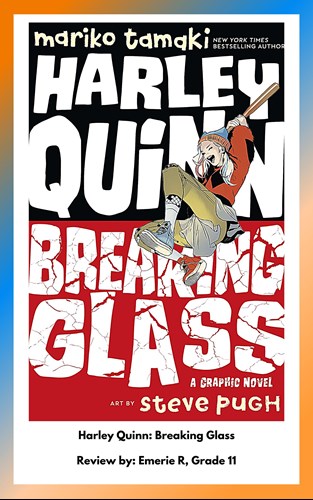 "Harley Quinn: Breaking Glass", by Mariko Tamaki, is literally groundbreaking. It talks about teenagers having to worry about going homeless, a community that helps each other, and the art of drag. The storyline keeps you wanting more, keeps you wondering, keeps you thinking, "What happens next?" When Harley takes us on all her amazing night adventures and meets this mysterious figure. The way it all escalates in the book does go pretty smoothly. The book is filled with all these crazy ups and downs which make it so fun to read. I would definitely recommend it for the DC fans.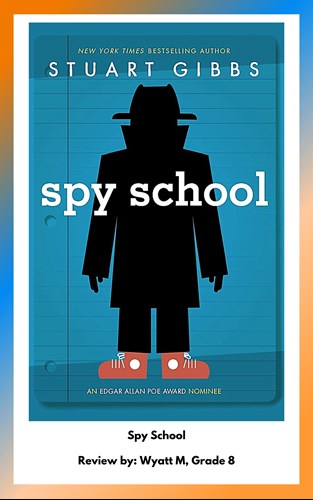 Benjamin Ripley an awkward twelve year old gets a visit from Alexander Hale saying that he has been recruited to a magnet science school. However, this so called science school is actually a front for the CIA Spy Training academy. Ben having a lack of communication skills isn't fit to be the best spy, but he is very smart. Unfortunately, there has been a mistake and Benjamin wasn't meant to be at the academy. Can he survive and look like a spy and solve the mystery of the school's double agent. Let's find out. In my opinion this book is great for the young teen reader being an action backed adventure. Out of 5 stars it earns a solid 4.9/5! I loved this book.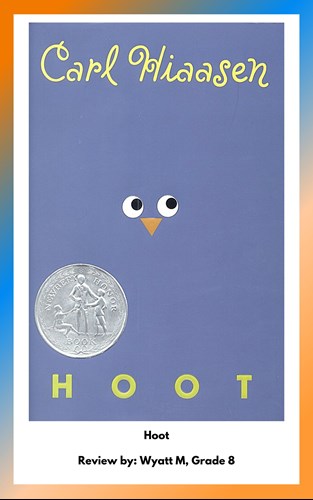 Roy is a boy who lives in Florida with his parents in a small town. He's the new kid from Montana so Roy is constantly picked on by the school bully, Dana. The town of Coconut Cove is getting a new Mother Paulas Pancake House.  However, the construction site has been the victim of various acts of vandalism. On the school bus, Roy sees an odd boy running without shoes along the street.  He decides to chase the boy, but gets lost and is hit on the head with a golf ball.   Eventually, Roy confronts the mystery boy, who goes by Mullet Fingers.  As it turns out, Mullet Fingers is responsible for the vandalism. Also, Roy learns that Mullet Fingers is trying to protect the native burrowing owls that live on the construction site, so he decides to help. In the end, Roy, along with several of his fellow classmates and friends, they stand up the Pancake House, and the owls and land are saved. This book was a great book but was a little complex at times. I would recommend reading it and give it a 3.5/5 stars because of all the twists and off details.