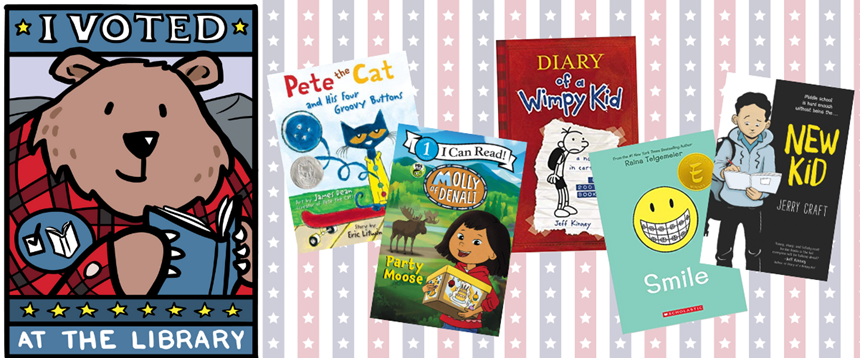 ELECTION RESULTS: Congratulations to Pete the Cat!
This year, kids across the state of Alaska are invited to join "Books Get Our Vote". They can vote for a book character for president and learn about literature and democracy. Ballots will be available at a variety of libraries across the state from October 19th to November 3rd. On November 4th, we will announce who the children of Alaska have chosen as their book character president! Special 'I Voted' stickers and ballots are available.
At Anchorage Public Library, ballots will be available in a special "Books Get Our Vote" youth program to go starting October 19th. Ballots can be returned in the book drops or handed to a library staff member.
The Candidates:
Jordan Banks from New Kid. Jordan is a 12 year-old who lives in New York City and loves art and is a loyal friend.
Greg Heffley from Diary of a Wimpy Kid. Greg is a middle school student at Westmore Middle School who loves drawing and videogames.
Molly Mabray from

Molly of Denali

. Molly is a 10 year-old from Qyah, Alaska who loves basketball, researching things, and vlogging.
Raina from

Smile

. Raina Telgemeier is a middle school girl from San Francisco, CA. She likes art, reading, and overcomes an accident with her teeth.
Pete the Cat from

Pete the Cat

. Pete is a cat who lives in a small town with his friends and family. He likes to make music and help his friends.
(or choose a write-in candidate)
For more information, please email Elizabeth Nicolai, elizabeth.nicolai@anchorageak.gov 
Fun, social, and shareable stuff!
Like the facebook event to get first look at all the candidate endorsement videos and discussions
Watch this great video of a reading of Marching with Aunt Susan to learn about the road to Women's Suffrage.
Here is a playlist of our videos about the candidates!