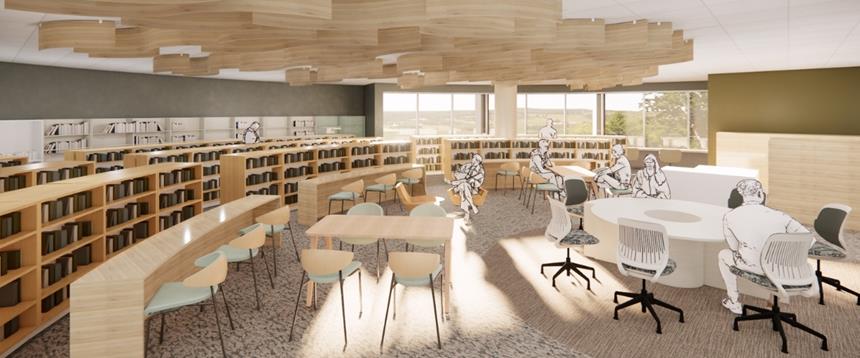 Alaska Collection Redesign
We're in the early stages of planning for a new Alaska Room at Loussac Library! The room will be a welcoming learning and gathering space where we can celebrate our cultures, learn about our shared history, exchange ideas and backgrounds, and engage in civic dialog and action.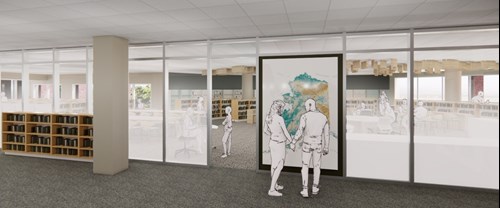 Image above: potential design of a new Alaska Room in the main building.
Our goal: Bring Alaska and Anchorage history to life, make it relevant to community members of all ages and backgrounds, and use collaborative learning and exploration to develop solutions to today's issues.
Our vision: People of all backgrounds see themselves reflected in the Alaska Room, to know that Alaska's history is not someone else's past, but their own, as well as a place to reflect on the present, and shape the future.
The COVID-19 pandemic has highlighted the importance of libraries sharing information and creating connections during uncertain times. This project can be a path forward in our community's recovery, providing access to the world of social and cultural ideas, which is more important now than ever.
The Anchorage Library Foundation has begun planning a fundraising campaign for the project for an estimated 2022 construction and 2023 opening.
mayor's task force on the Alaska Room
Evelyn Abello
Rochelle Adams, Native People's Action
Charlene Apok, Native Movement
Brooks Banker
Britt'Nee Brower
Barbara Brown
Penny Cordes
Lourdes Linato Crawford, Past President of Bridge Builders, Library Advisory Board
Justin Dickens, Youth Program Manager, Identity
Richard Farber, Native Village of Eklutna
Leslie Fried, Alaska Jewish Museum
Lucy Hansen, Polynesian Association of Alaska
Shawna Larson, Native Movement
Beth Ginondidoy Leonard, PhD, Alaska Pacific University Indigenous Studies
Michael Livingston, Aleutian Pribilof Islands Association
Theresa Lyons, YWCA
Meagan McBride, Alaska Studies teacher at East High
Gabriela Olmos
Bruce Parham, former director, National Archives at Anchorage; former employee National Archives and Records Administration (NARA); secretary of the Cook Inlet Historical Society Board of Directors
Katie Ringsmuth, Tundra Vision, State of Alaska Historian
Melissa Shaginoff
Arthur Sosa, Abbott Loop Elementary Principal, active in ENLACES
Jessica Szelag, Kenai Mountains Turnagain Arm National Heritage Area
Yaso Thiru, Professor at Alaska Pacific University
Yolandus "Doyle" Williams, Alaska Black Caucus
BACKGROUND
The 2013 Loussac Facility Plan calls for the creation of a new home for the Alaska Collection in the NE corner of the third floor of the main building. This new space will unite the Alaska Collection with genealogy and microfiche materials in one location that is more accessible to the public and more efficient for staff to operate.
A flood from a broken pipe in the Alaska Wing in 2017 sped up the schedule for relocating the Alaska Collection. The Alaska Collection was moved to a temporary location on the third floor of the main building and the Ann Stevens Room is open to the public. The Rotunda was renovated into an event center, available for rent by the public for receptions, weddings and conferences.  
In summer 2019, we worked with McCool Carlson Green Architects to create a first draft of plans for the new Alaska Room. We held focus groups, conducted an online survey and interviewed individuals to hear more about what you want out of the space and the Library's Alaska program.
We learned that you want the new room to be inviting and accessible, while maintaining the traditional coziness that so many had come to love in the previous space. We learned that you wanted a robust collection for scholarly research, and that you want the room design and programs to reflect Alaska Indigenous cultures, as well as the many cultures that call Anchorage home today.
As we raise funds, we will work on final designs. Throughout the process, we will continue to seek community feedback and input.
If at any time you have ideas or comments, email askalibrarian@muni.org.
View the work we did in Fall 2018 to collect community feedback:
alaska collection summit report