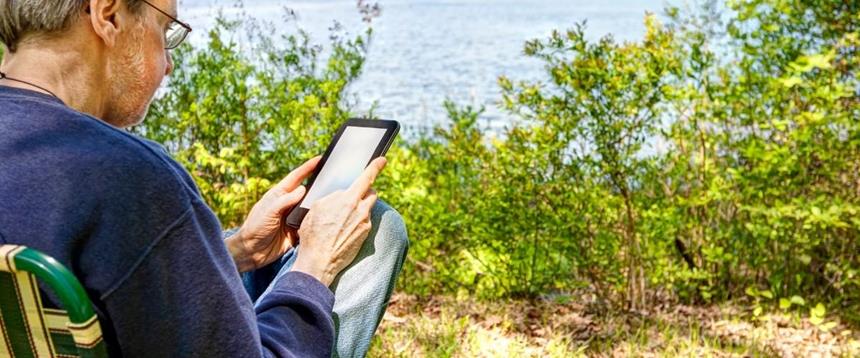 While it's true that nothing can replace the feel of a real book, there are a lot of good reasons to try digital ebooks and audiobooks. During summer months when we're out on our Alaskan adventures or traveling Outside, ebooks and audiobooks provide a portable way to enjoy reading. They are also easily adapted for people who may not be able to read regular print books.
Portability – you can take multiple books with you wherever you go, conveniently downloaded to your eReader, tablet or phone. The Libby app has a limit of 7 checkouts at one time, so that's seven ebooks, magazines, or audiobooks to take on your next adventure. Hoopla allows 8 checkouts per month.
Accessibility – Never have a book emergency again. If you have wifi and your Anchorage Public Library card, you can log in to the apps from home or almost anywhere in the world and download new checkouts.
Weight – Lightweight ereaders and audiobooks make it possible for people who are unable to hold heavy books or turn pages to continue to enjoy reading and for travelers to avoid overweight baggage.
Adjustability – There are so many options to adapt ebook text and audiobooks to your own needs.

Is a bolder font better for you? One for Dyslexia?
Is it easier for you to read light print on a dark background or lines that are spaced farther apart?
Maybe you need that text to be just a little bit bigger. In a few taps, your text is customized to give you the reading experience that is easiest on your eyes.
You can also adjust the playback speed of your audiobooks so you can listen at your own pace.

Kids Mode- Parents and care givers can help guide the content choices for children using the filters in Libby and Kids Mode in hoopla. These options allow you to narrow visible content by age group. APL staff is available to help parents facilitate the content choices that fit their family needs.
Want to learn how you can change your ebook and audiobook settings in Libby? Here's a video to show you how.