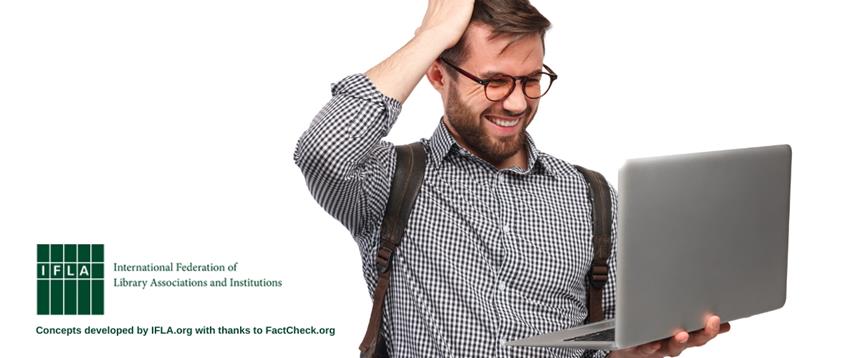 Understanding how we use and consume information is more important than ever. It's becoming harder and harder to tell legitimate sources from those that are spreading lies and misinformation. APL librarians have created an 8-part video series to show you some helpful techniques for how to spot a fake and evaluate your media sources. 
Check Your Biases
aDDITIONAL rESOURCES
Consider the Source
Additional Resources
Supporting Sources?
Additional Resources
Is it a Joke?
Additional Resources
Read Beyond
Additional resources
Do Others Agree?
Additional Resources
Ask the Experts
Additional Resources
Look Before You Share
Additional Resources
Fact Checking Tools
Botometer (formerly BotOrNot) checks the activity of a Twitter account and gives it a score based on how likely the account is to be a bot. Higher scores are more bot-like.
Use of this service requires Twitter authentication and permissions.
A nonpartisan, nonprofit "consumer advocate" for voters that aims to reduce the level of deception and confusion in U.S. politics. FactCheck.org is a project of the Annenberg Public Policy Center of the University of Pennsylvania.
A tool that visualizes the spread of articles online. There are two search modes. Articles search finds claims and related fact checking in a limited corpus of articles from low-credibility and fact-checking sources, dating back to 2016. Twitter search lets users track articles from any sources posted on Twitter, but only within the last 7 days. At most, Hoaxy is capable of visualizing the top 1000 accounts and in the case of a Twitter search, this will be the most recently active 1000 accounts if sorted by Recent.
Resources that present multiple sides of an issue.
PolitiFact is a fact-checking website that rates the accuracy of claims by elected officials and others on its Truth-O-Meter.
A fact checking website that is known for sorting out myths and rumors that appear on the internet. It has also been seen as a source for validating and debunking urban legends and similar stories in popular culture.