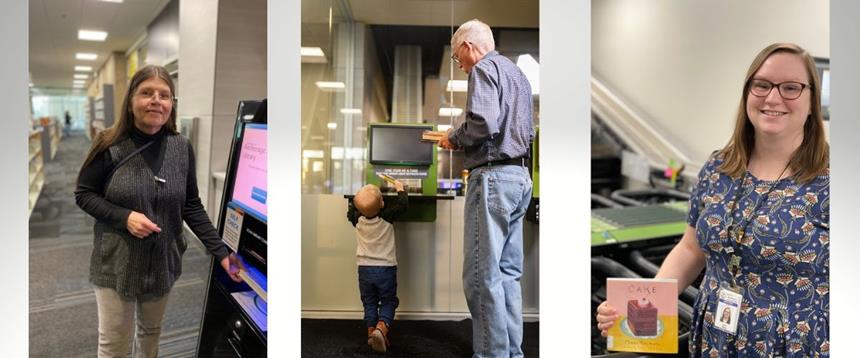 Advances in technology at Anchorage Public Library strive to enhance your library experience while improving staff efficiency and giving us more time to offer personalized service.  In the past few years Anchorage Public Library has brought both self-check stations and automated handling (AMH) systems on-line with great results.
Self-check machines allow busy patrons to get in and out of a location with materials in hand, skipping the line of folks with more in-depth needs.  Think of it as a fast pass for books. Our record holding reader can get in and out of the library in 3 minutes!
At our high volume locations, staff have spent a disproportionate amount of time behind the scenes processing materials, and less time providing more in-demand services to the community. With the use of AMH, staff has more time to serve our customers; helping  you find materials and use computers, as well as developing programs, and conducting outreach to schools, senior centers, non-profits and other community partners.
Loussac Library circulates almost 800,000 items per year and has already seen improvements in materials returning to shelves faster so patrons have more access to in demand titles.  Items also come off of library cards immediately so patrons can borrow new ones on the same visit. This is especially useful for patrons borrowing media like DVDs.  AMH also helps provide a safer workplace reducing repetitive task movements and limiting heavy lifting from return bins.
Our behind-the-scenes tour is a favorite among our young (and young at heart) patrons. Our Loussac AMH has been referred to as "the sorting hat" by those visiting us on Harry Potter Day, and is affectionally known as Sorty McSort Face (Sorty for short) to staff.  Be sure to ask for a tour the next time you're at the library.
While our robot helpers are working away, our staff is able to connect with patrons at a deeper level over their favorite titles or individual needs. We love hearing what you're reading, watching or listening to and sharing our favorites with you.
What's next?  In 2018 voters approved a ballot measure to add AMH to our Chugiak-Eagle River branch. This library location is the second busiest in the system circulating over 200,000 items a year. Installation of the AMH begins in November and we plan to have it up and running by the end of the year.