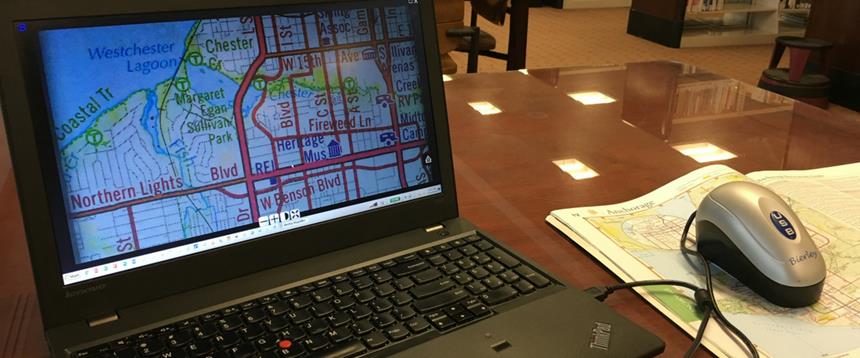 Anchorage Public Library has options for people who experience low vision. Each APL location has an electronic magnifier available for in-house use with our public computers. This handy device looks just like a computer mouse, but instead of using it to point at things on a screen, the mouse can be moved over books, maps, photos – even cans or bottles. The mouse magnifies whatever it is pointed at by 3-100x on the computer screen. While APL previously offered a book magnifier, it was only available at Loussac, and was a large piece of equipment set off in a corner. These new magnifiers are light weight, portable, and much easier to use. Patrons can either check out the magnifier with an APL library card, or they can trade a picture ID to be held until the mouse is returned. The magnifiers cannot be taken out of the library, and can only be used with APL computers. All locations will continue to offer hand held magnifying glasses as well.
APL also has NVDA (NonVisual Desktop Access) screen reader software available for in-house use. Patrons can check out a flash drive to plug in to any computer (public or personal) and run this software, which translates the visual information on a computer screen (text, photos, buttons) into a computerized voice. Patrons will need to bring their own headphones to use this software in the library. Librarians can also assist patrons in downloading this free software to their personal flash drives or computers.
Large type, high contract computer keyboards are also available to check out for in-library use.